Dominos Spicy Jalapeno Pineapple Chicken Copycat made with chicken breast nuggets, mango habanero sauce, mozzarella and cheddar cheese, pineapple and jalapenos.
This Copycat Recipe is an easy quick appetizer your friends and family will love! You can make them with Homemade Chicken Nuggets or Super Crispy Chicken Tenders.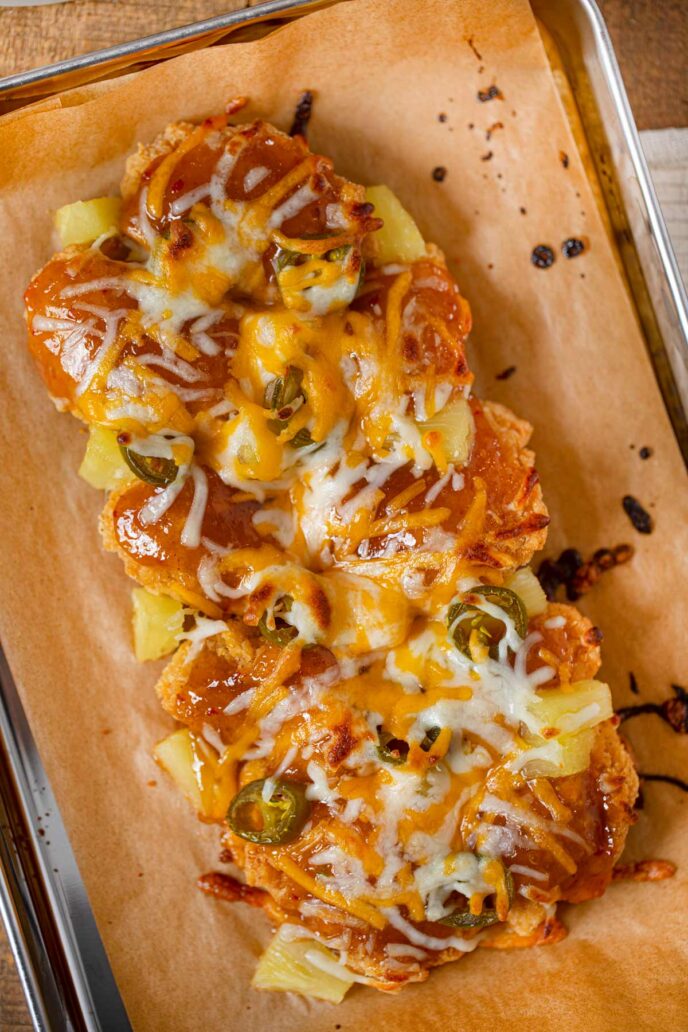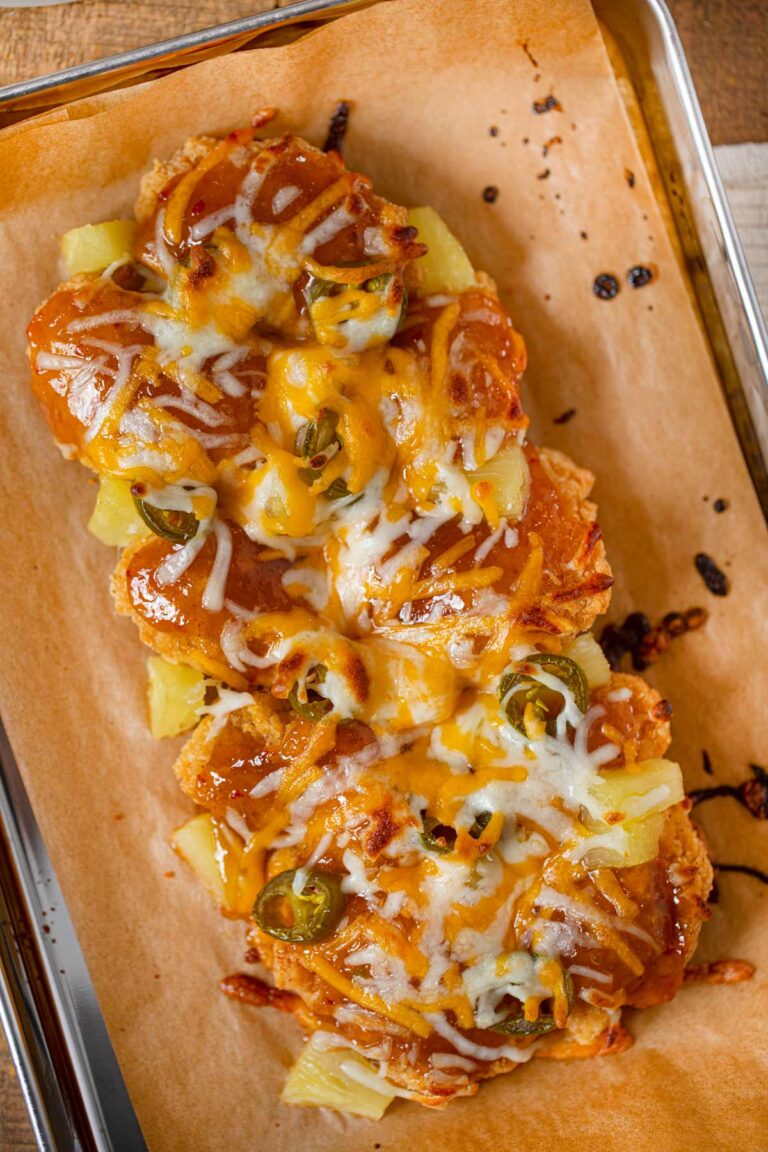 Dominos Spicy Jalapeno Pineapple Chicken (Copycat)
Since we posted the Mango Habanero Sauce you'll love this perfect crispy appetizer as you get ready for the big game!
We love using the sauce on almost any chicken appetizer but using it on this appetizer recipe like the original Domino's fan favorite dish is a no brainer.
Lets build our recipe: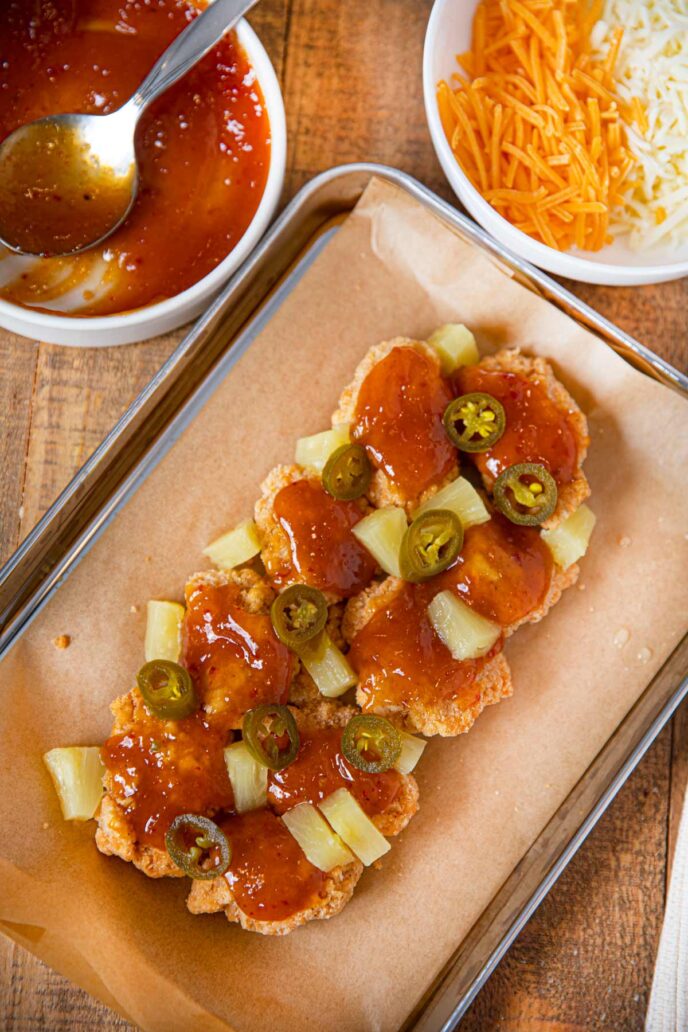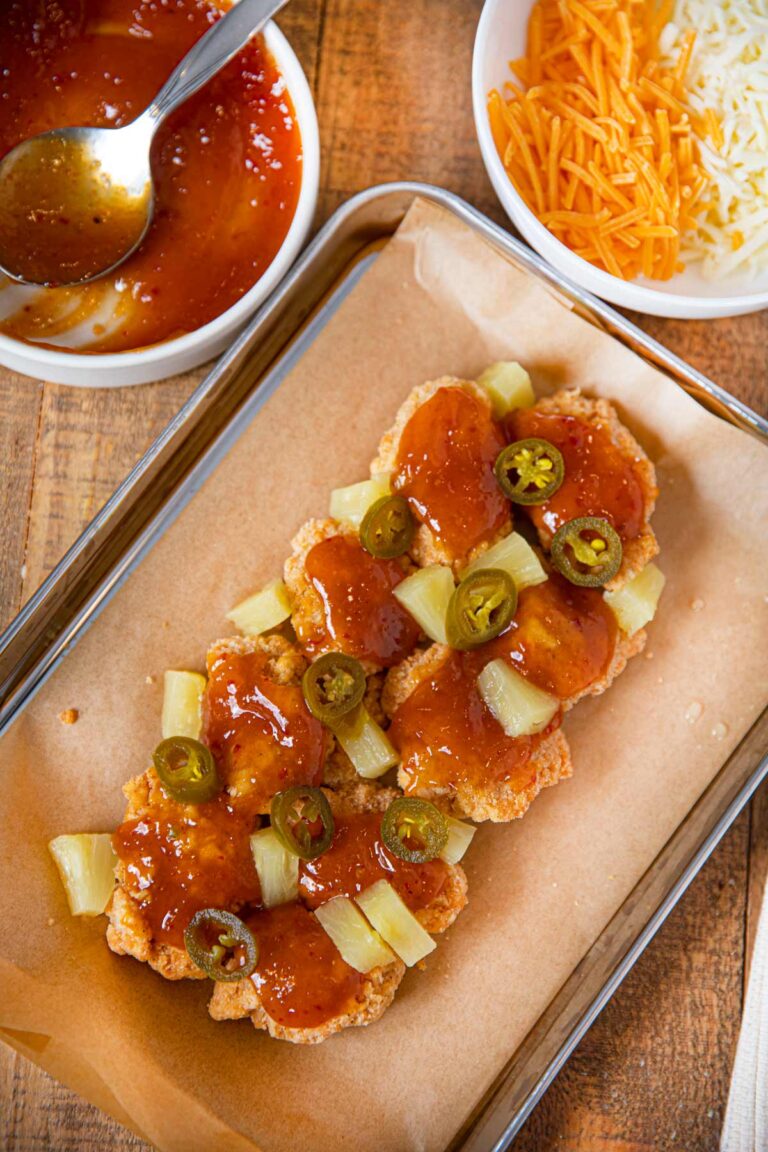 First you need to arrange your chicken nuggets in a single layer touching side by side.
Top with Mango Habanero Sauce.
Top with pineapple chunks and slices of jalapeno (use as much as you can handle, the sauce has jalapenos too).
Top with cheddar cheese and mozzarella cheese.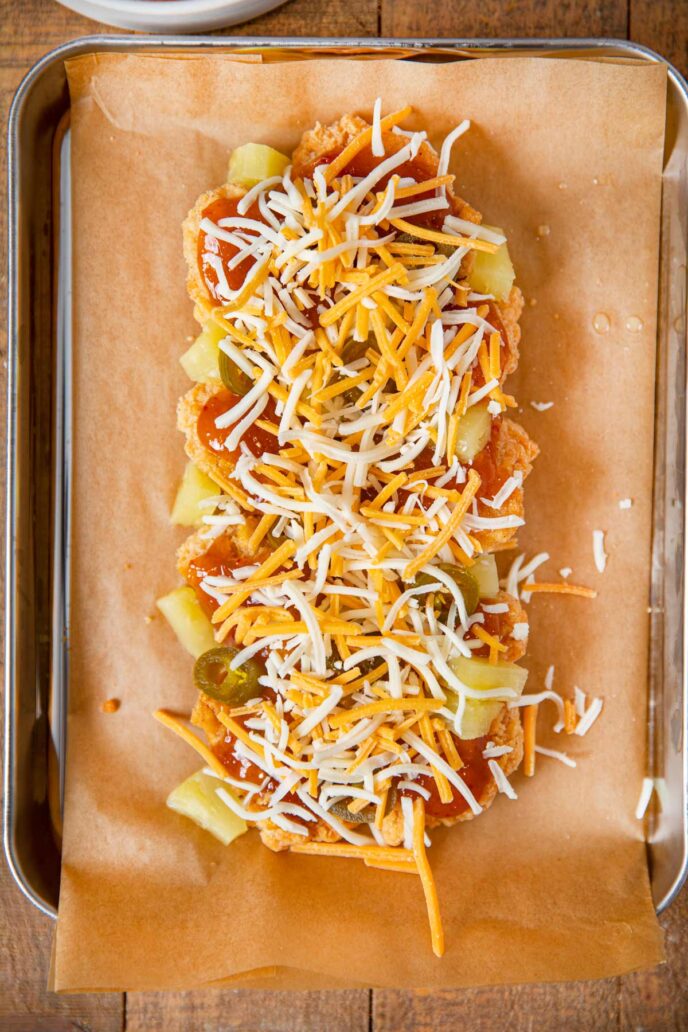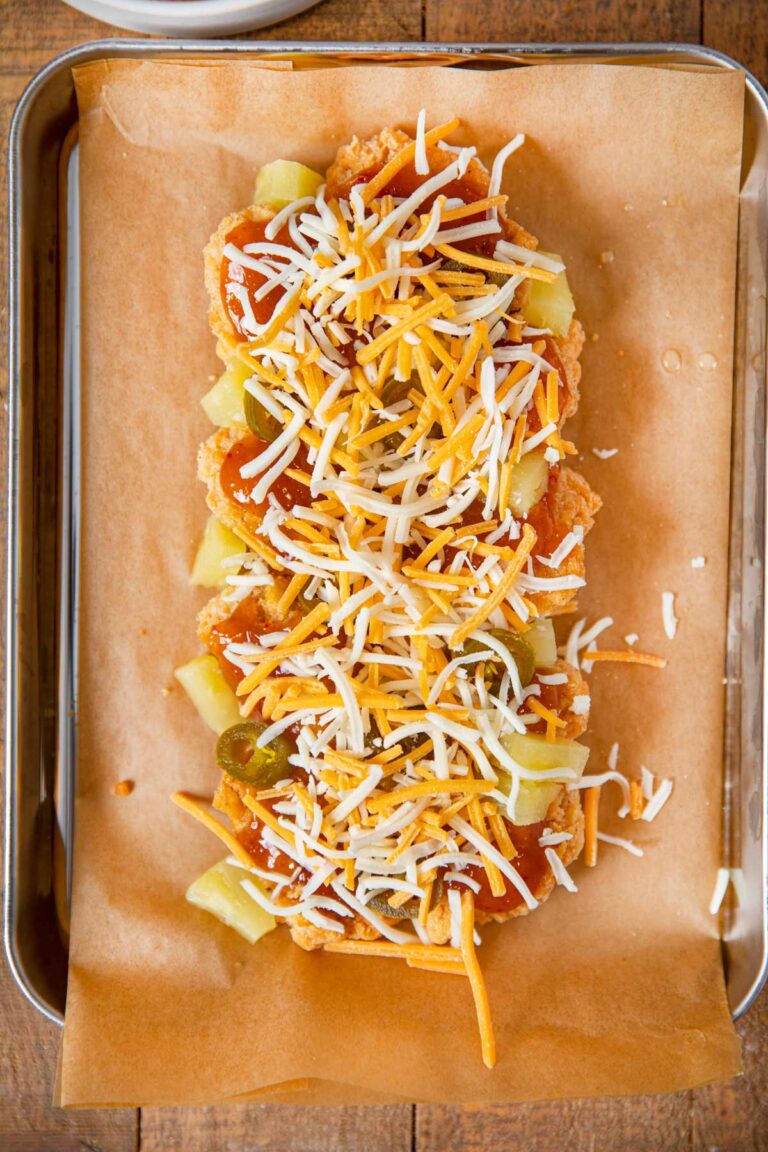 Place into a 400 degree oven for 13-15 minutes or until the cheese is crispy and browned and the chicken is hot and crispy.
Serve immediately while chicken and cheese are still hot.
More Domino's Copycat Recipes:
Is Mango Habanero Sauce Spicy?
The Dominos version isn't as a spicy as most Mango Habanero Sauces I've had in the past but it does still have a bit of a slow burn. Most of the heat in the recipe will come from the added pickled jalapenos you top the chicken with.
You are only covering the chicken with a thin enough layer of the sauce to add flavor. Adding too much will cause it to become soggy.
Can you use skinless chicken breast?
Yes! You don't need to use breaded chicken in this recipe. We've tested it with grilled chicken as well. We also tried it over a grilled chicken patty that was broiled with the topping. They're all delicious!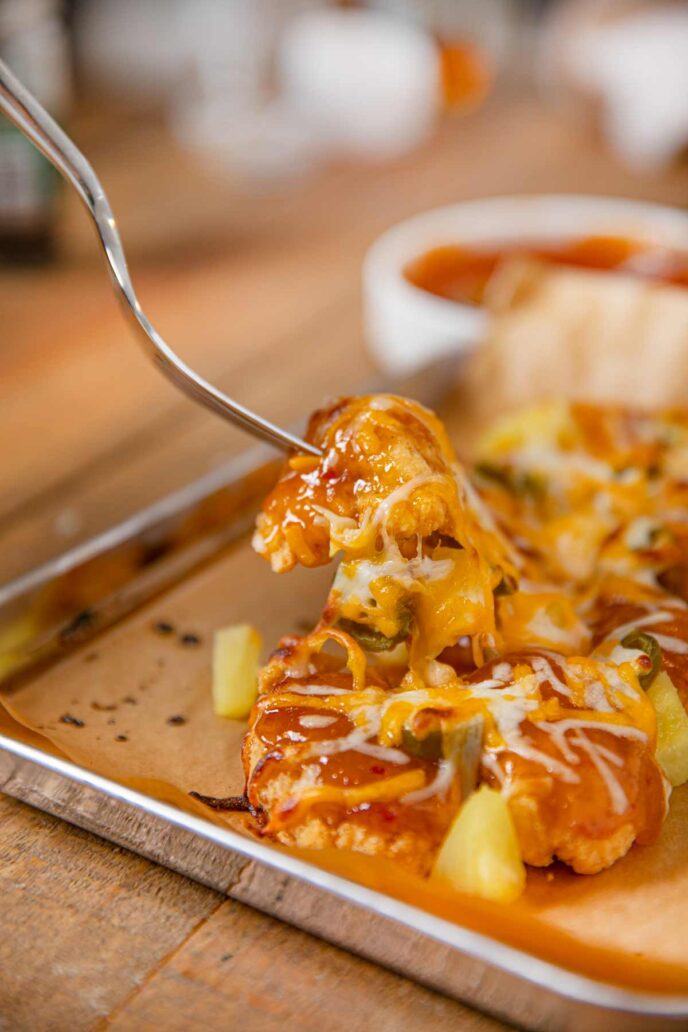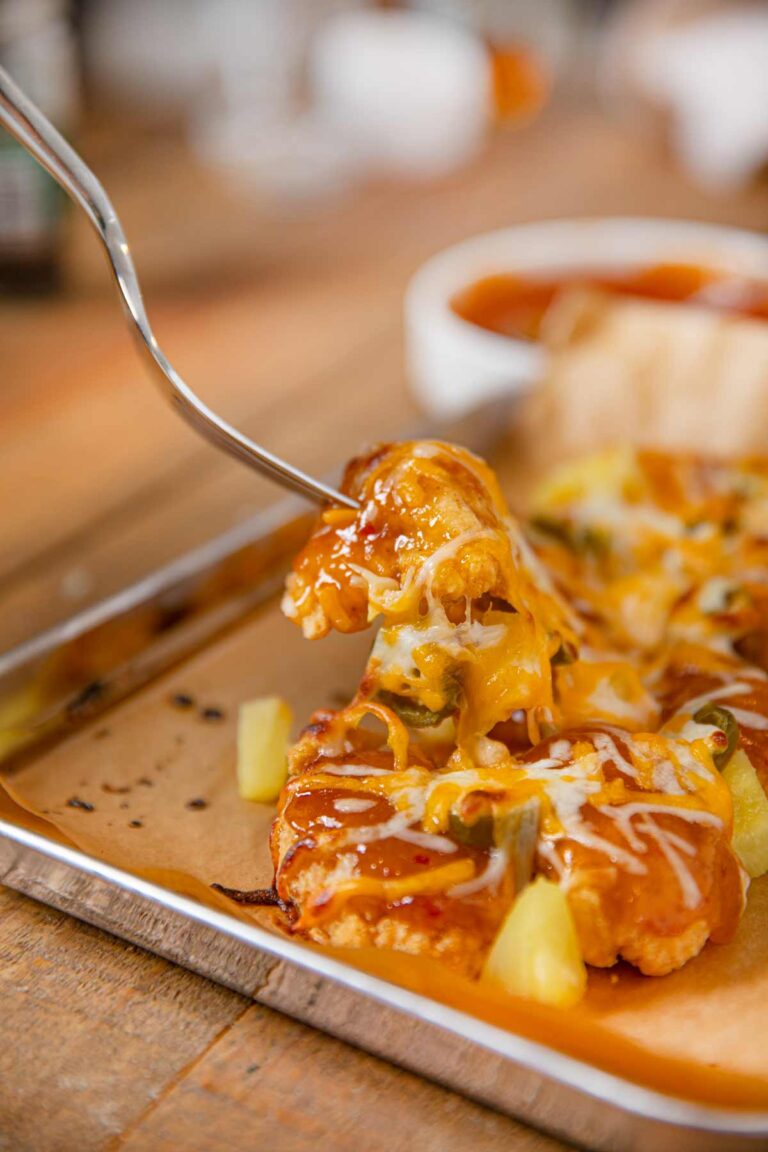 Create a free account to Save Recipes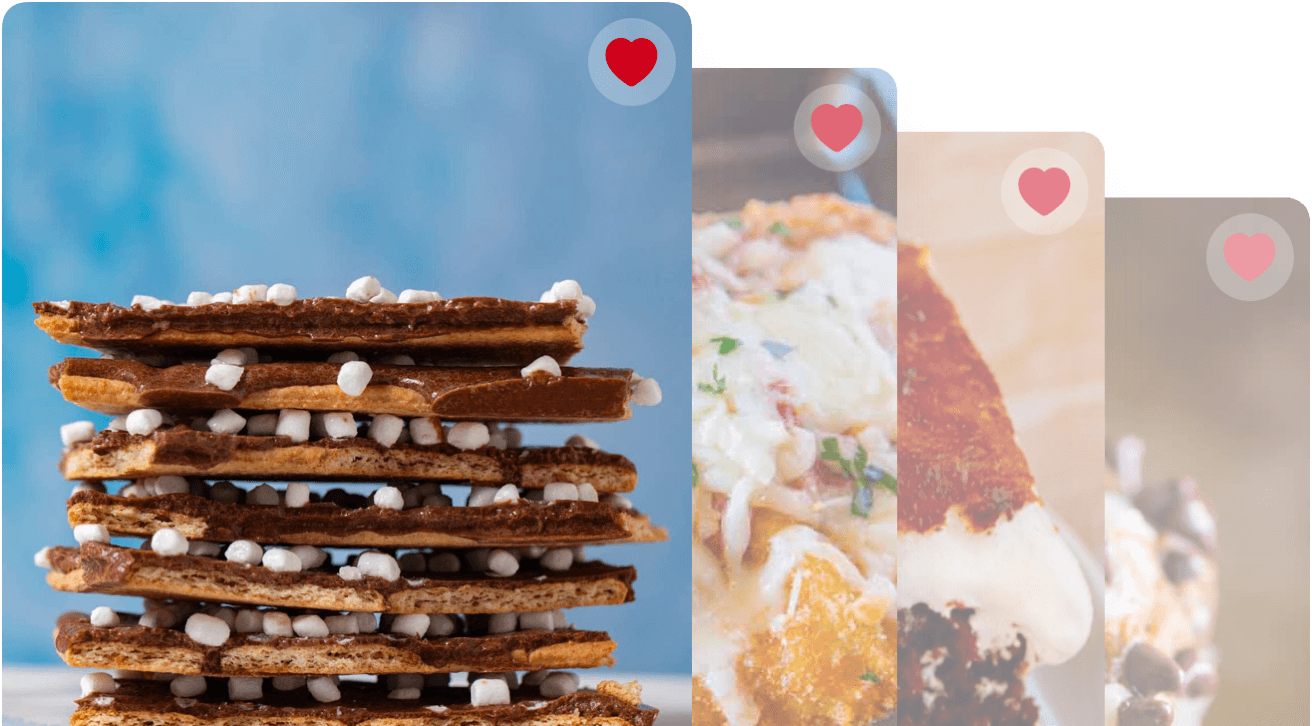 Substitutes for Chicken Nuggets:
Chicken: You can use almost any chicken in place of these chicken nuggets. You can of course just use pre-made frozen chicken nuggets too.
Crispy Cauliflower: Make an amazing vegetarian appetizer by tossing some Crispy Roasted Cauliflower in Mango Habanero Sauce. We also tried making this dish with crispy tempura cauliflower from Trader Joe's (just don't use the sauce packet it comes with) and it was delicious!
Meatballs: Use this Spicy Mango Sauce for your Cocktail Meatballs instead of the chili sauce and grape jelly. Add a cup of your favorite barbecue sauce to make it even more delicious. Or just swap regular Homemade Meatballs in place of the chicken nuggets in the recipe.
Spicy Chicken Sandwich: Use this habanero sauce as the spread for a chicken sandwich like on the Dominos menu. Put a generous amount on ciabatta and add grilled chicken, provolone, canned pineapple chunks, and pickled jalapeños. Bake in the oven at 350 degrees F for about 10-15, until golden brown and toasty.
More Appetizers for a Crowd:
Serve: Don't leave chicken out at room temperature for more than 2 hours.
Store: This appetizer will stay good for 3 days in the refrigerator but the chicken will be soggy from the sauce. Store in an airtight jar or container.
Freeze: You can freeze for up to 6 months in a sealed container. It is best if you don't coat with the sauce before freezing if you are meal prepping.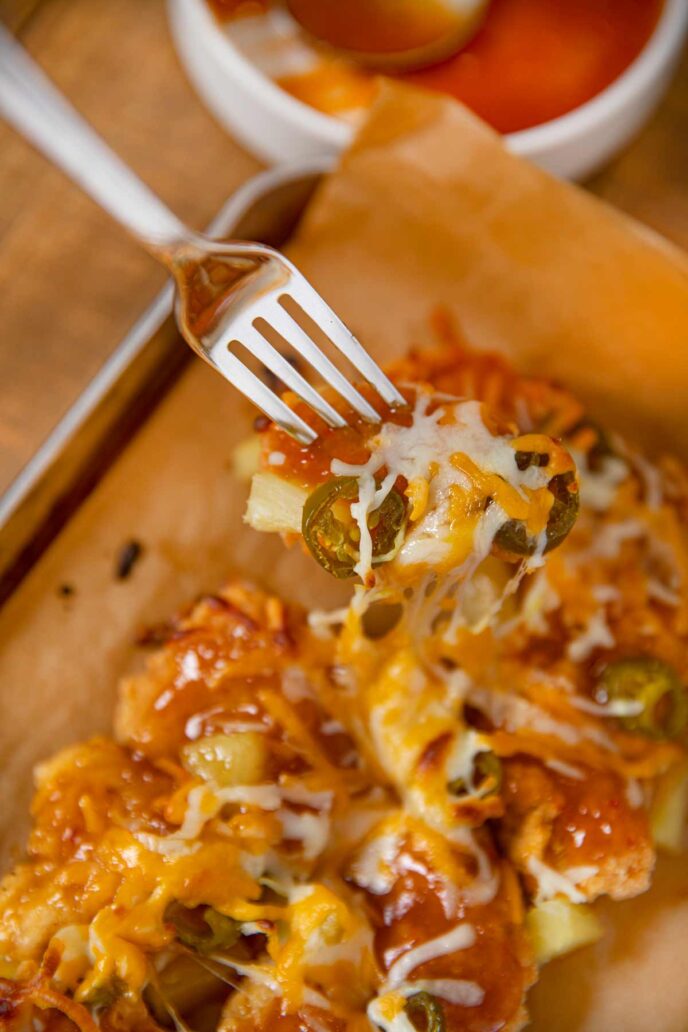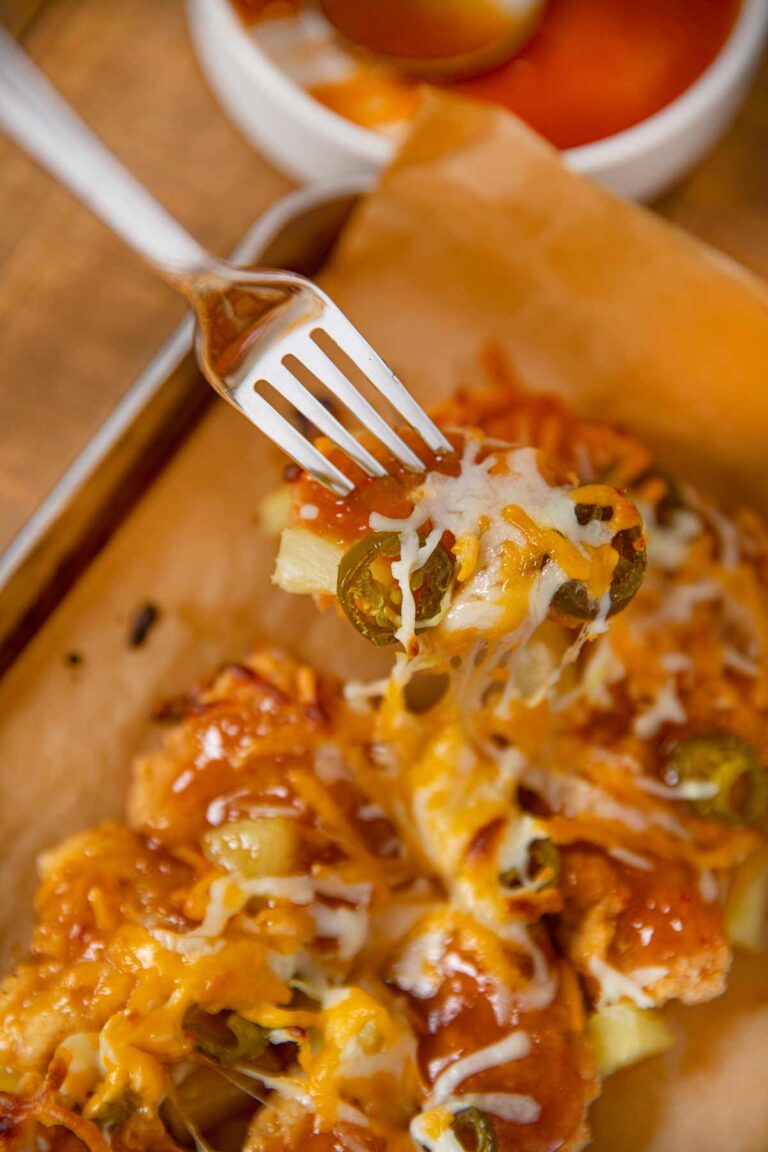 Ingredients
10

breaded chicken pieces

1/4

cup

Sweet Mango Habanero Sauce

1/4

cup

Mozzarella cheese

1/4

cup

sharp cheddar cheese

10

pickled jalapeños

1/4

cup

canned pineapple tidbits

, drained well
Instructions
Pre-heat oven to 400 degrees.

Line chicken nuggets up in single layer touching each other on the sides.

Coat with mango habanero sauce.

Top with pineapple chunks and jalapeno slices.

Sprinkle with cheddar cheese and mozzarella cheese.

Bake for

13-15 minutes

until cheese is crispy, browned and melted.
Nutrition
Calories:
384
kcal
|
Carbohydrates:
1
g
|
Protein:
60
g
|
Fat:
14
g
|
Saturated Fat:
6
g
|
Cholesterol:
186
mg
|
Sodium:
465
mg
|
Potassium:
925
mg
|
Sugar:
1
g
|
Vitamin A:
311
IU
|
Vitamin C:
3
mg
|
Calcium:
185
mg
|
Iron:
1
mg