Peanut Butter and Jelly Cereal Bars are the perfect kid-friendly after-school treat with cheerios, honey, peanut butter, and strawberry flavor.
No-bake cereal bars are always a fun and easy Dessert Recipe. For more versions try our Peanut Butter Cornflake Bars or Cheerio Cereal Bars.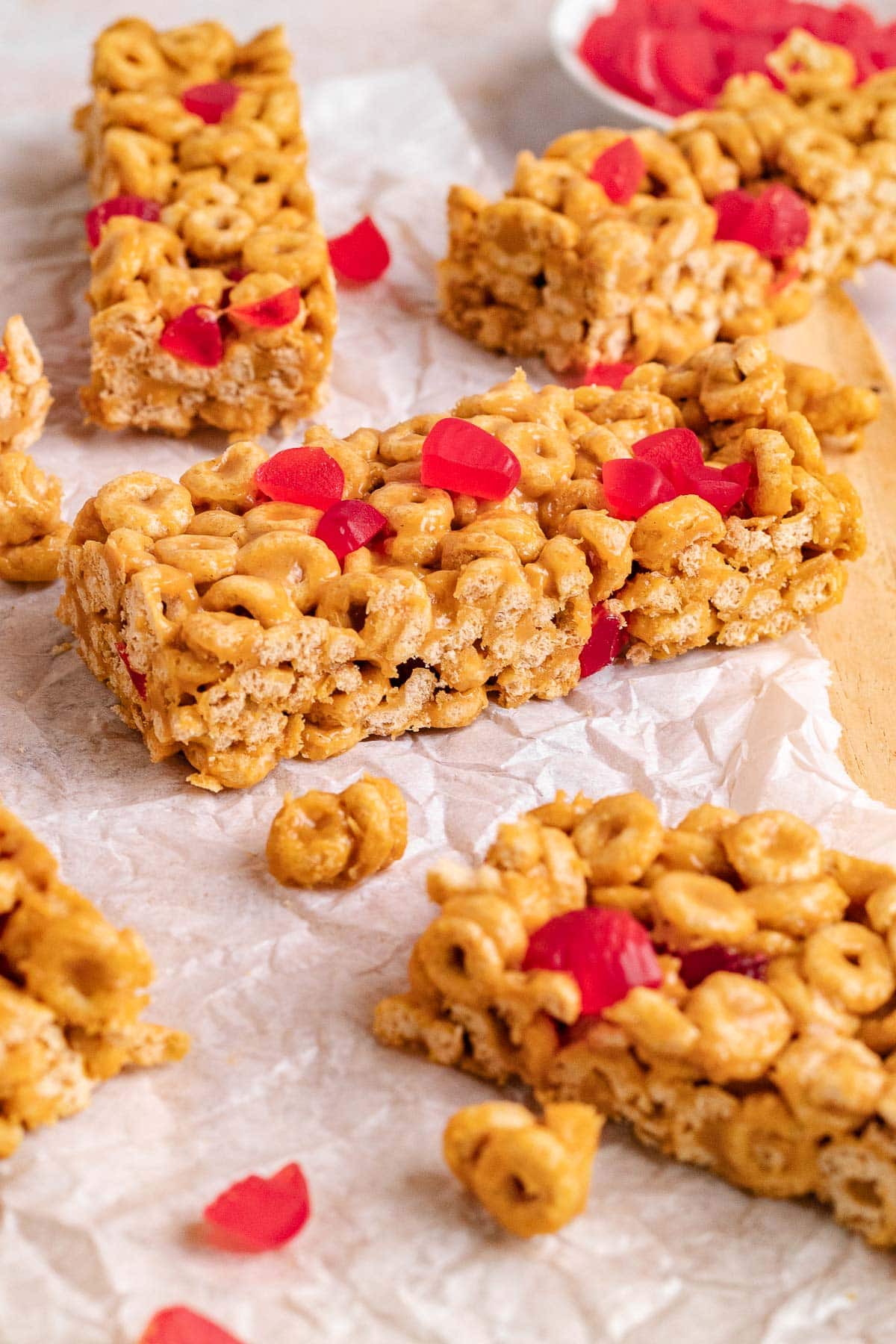 Chewy, no-bake Peanut Butter and Jelly Cereal Bars give the same classic flavors as a homemade peanut butter and jelly sandwich. The creamy peanut butter and honey mixture are the perfect blend of salty and sweet and do a great job coating the cheerio pieces. To get the fresh fruit flavor, the recipe calls for strawberry gummy candies. They give the perfect jelly taste and add some chewy texture to the recipe.
Peanut Butter and Jelly Cereal Bars are incredibly easy to make, with only 4 ingredients. There's no cooking required, and all you have to do for the prep time is combine the ingredients and press them into a pan. Then make sure you give them a few hours to refrigerate before slicing them into squares.
The flavors of peanut butter and jelly are an iconic duo for lunch, so this makes a great treat to pack in your lunch cooler. However, you could also serve Peanut Butter and Jelly Cereal Bars at a party, potluck, or give them to your kids as an after-school snack. No-bake Peanut Butter and Jelly Cereal Bars always make a great, sweet pick-me-up any time of day. For another PB&J option, you could also make our Peanut Butter and Jelly Blondies.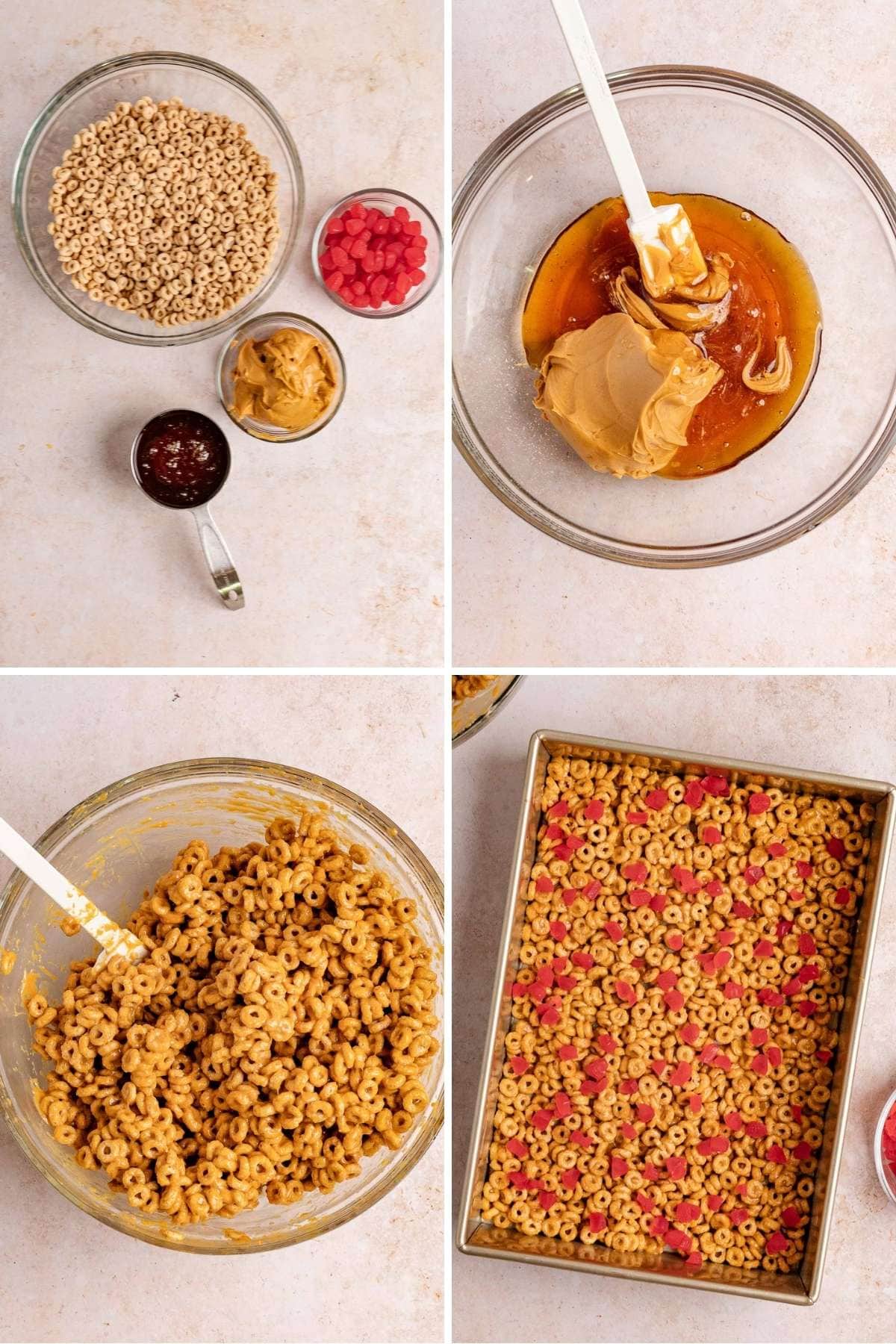 HOMEMADE PEANUT BUTTER TREATS
KEY INGREDIENTS
Cheerios: This recipe is made with just 4 simple ingredients, but that means every single one of them is important. Firstly, the main structure of the bars comes from cheerios. They make the perfect dry cereal to build the other ingredients off of and make easy, crunchy, chewy bars.
Peanut butter: Of course, creamy peanut butter is used to give the treat a rich, salty, peanut flavor. You can use any of your favorite peanut butter brands for this recipe.
Honey: Honey is mixed with peanut butter. Not only does it add some sweetness, but it also makes a stickier peanut butter mix that helps keep the cereal pieces together.
Strawberry: Finally, the strawberry gummies make the perfect complement to peanut butter and give this recipe an amazing PB&J flavor.
TIPS
Cereal mixture: Add the peanut butter and honey to a large microwave-safe bowl. Then cover the bowl with a wet paper towel to stop the peanut butter mixture from drying out. Microwave for 1 minute, and then stir the cereal into the mix. Continue stirring until the cereal is coated in peanut butter.
Assemble: Grease a 9×13 inch baking pan. Then add ⅓ of the cereal and peanut butter mix to the base of the prepared baking dish. Press the cereal mixture so it's in an even layer, then add a few of the quartered strawberry jelly pieces. Repeat with two more layers of peanut butter mixture and jellies.
Refrigerate: Cover the pan and put it in the fridge for about 2 hours before slicing and serving.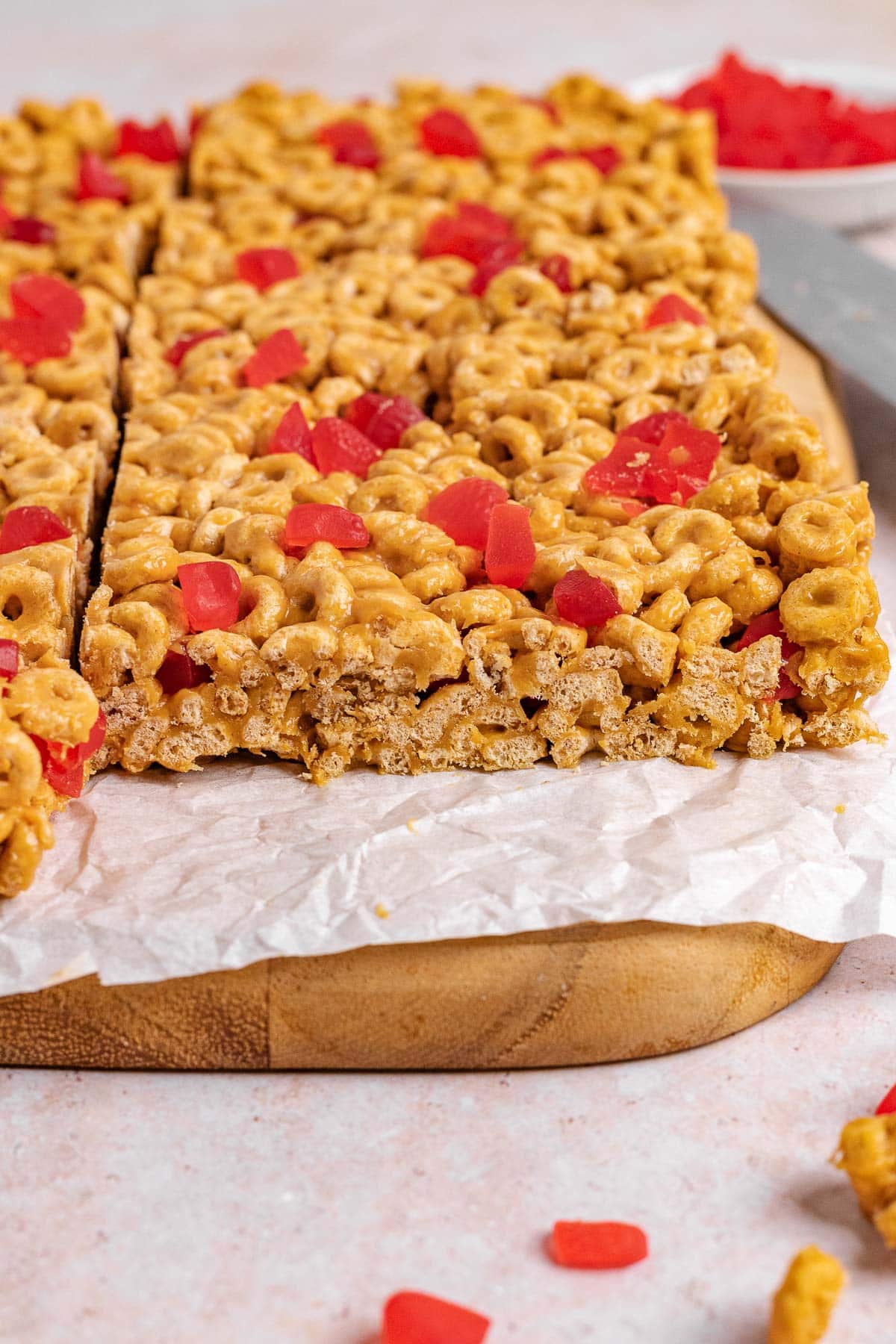 Create a free account to

Save Recipes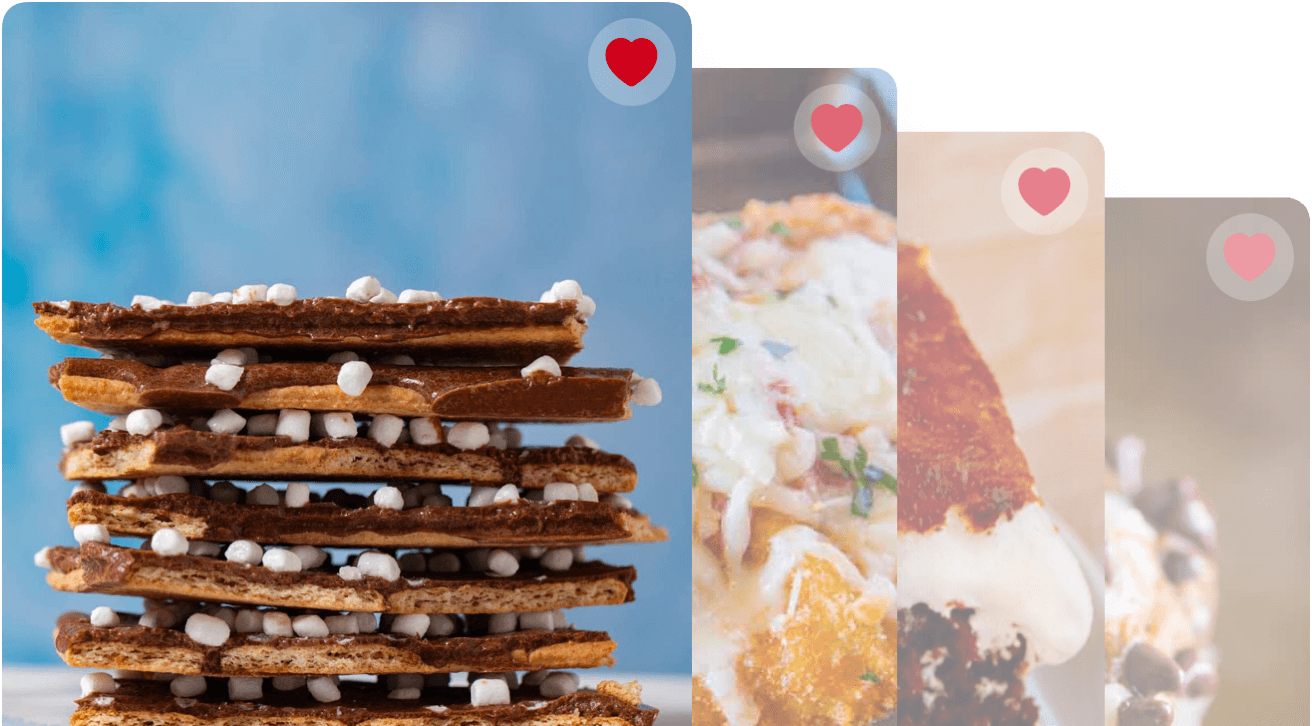 VARIATIONS
Chocolate chips: Instead of peanut butter and jelly, you could make peanut butter and chocolate bars. Simply, replace the layers of gummy candies with layers of semisweet chocolate chips.
Peanut butter: If you want to add some crunch to the recipe you can use crunchy peanut butter instead of creamy. You could also try using another type of nut butter like sunflower seed butter or almond butter.
Honey substitutes: If you don't have any honey, you can use maple syrup. You could also use brown sugar. However, since brown sugar isn't a liquid, you'll also want to add some water to the recipe. Mix in about ¼ cup water with the sugar and peanut butter mixture. That way the peanut butter mixture isn't too dry.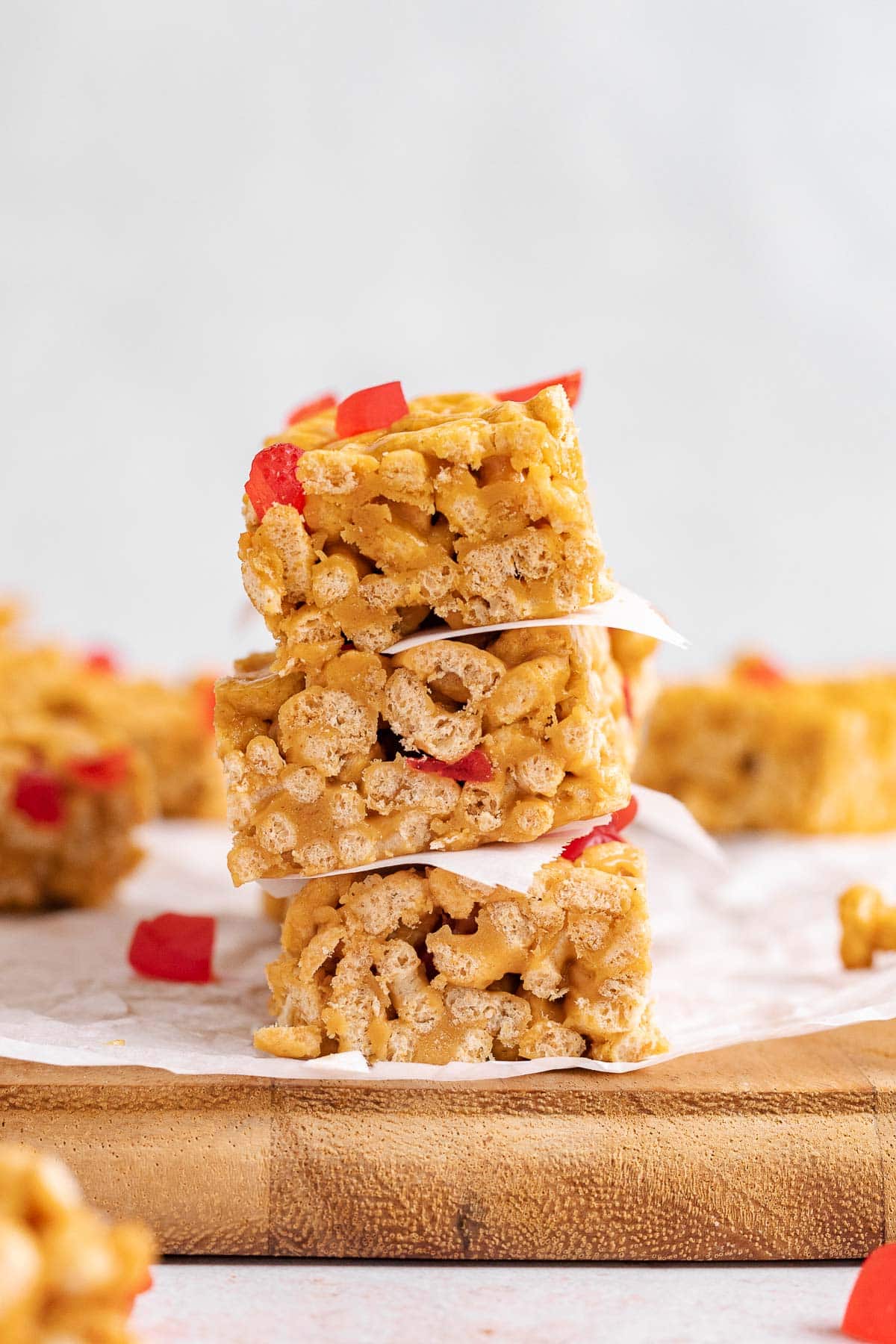 MORE BAR RECIPES
HOW TO STORE
Serve: After you've given them time to chill Peanut Butter and Jelly Cereal Bars are best enjoyed at room temperature. Cover them in plastic wrap to keep them out for up to 4 days.
Store: You can also cover the bars or transfer them to an airtight container to store in the fridge for up to 1 week.
Freeze: To keep the cereal bars longer cut them into squares and transfer them to a freezer bag with layers separated by parchment paper. That way they won't freeze together and can stay good for up to 6 months.


Ingredients
1

cup

honey

1

cup

Peanut Butter

6

cups

Cheerios

6

ounces

strawberry gummy candies

, quartered
Instructions
Mix the honey and peanut butter in a bowl and microwave for 1 minute covered in a bowl with a wet paper towel.

Whisk it together until fully combined then add it to the cereal.

Stir the cereal to coat completely.

Grease a 9×13 baking pan and add the first third of the batter then sprinkle on a few quartered jellies.

Repeat twice more.

Let chill in the refrigerator for at least

2 hours

before slicing into long thin rectangles.
Nutrition
Calories:
197
kcal
|
Carbohydrates:
30
g
|
Protein:
5
g
|
Fat:
8
g
|
Saturated Fat:
2
g
|
Polyunsaturated Fat:
2
g
|
Monounsaturated Fat:
4
g
|
Trans Fat:
1
g
|
Sodium:
111
mg
|
Potassium:
148
mg
|
Fiber:
2
g
|
Sugar:
21
g
|
Vitamin A:
231
IU
|
Vitamin C:
2
mg
|
Calcium:
35
mg
|
Iron:
3
mg