These Snickerdoodle Chip Cookies take the classic chewy cinnamon sugar cookies recipe and loads it with melty sweet white chocolate chips.
This easy chewy Cookie Recipe is very similar to Classic Snickerdoodle Cookies, but with additional flavor and texture from the white chocolate chips mixed into the dough.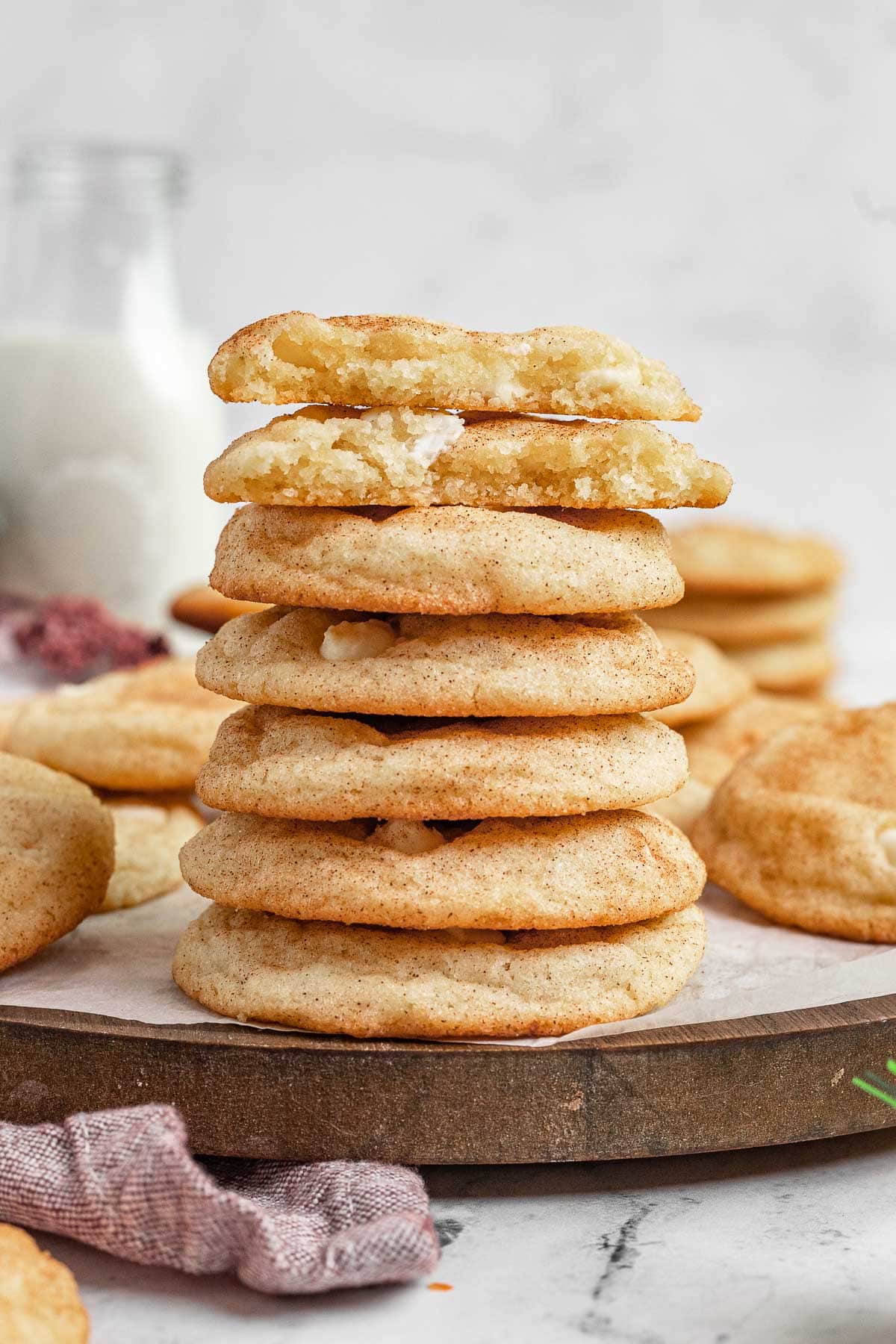 Snickerdoodles are incredible cookies to enjoy all year round but they are also a popular cookie for the holidays. The warm cinnamon flavor in the classic snickerdoodle cookie recipe is just perfect for the cozy season. There's nothing quite as comforting as a plate of sweet sugary cookies fresh from the oven to when it's cold outside, especially with a cup of Hot Cocoa for dunking.
If you are looking to switch things up this holiday baking season, why not try these delicious upgraded Snickerdoodle Chips Cookies? Adding white chocolate chips into the cookie dough adds a fun tasty twist on a classic recipe. The creamy chips make these cinnamon sugar covered cookies extra sweet and fill the warm cookies with burst of melty vanilla goodness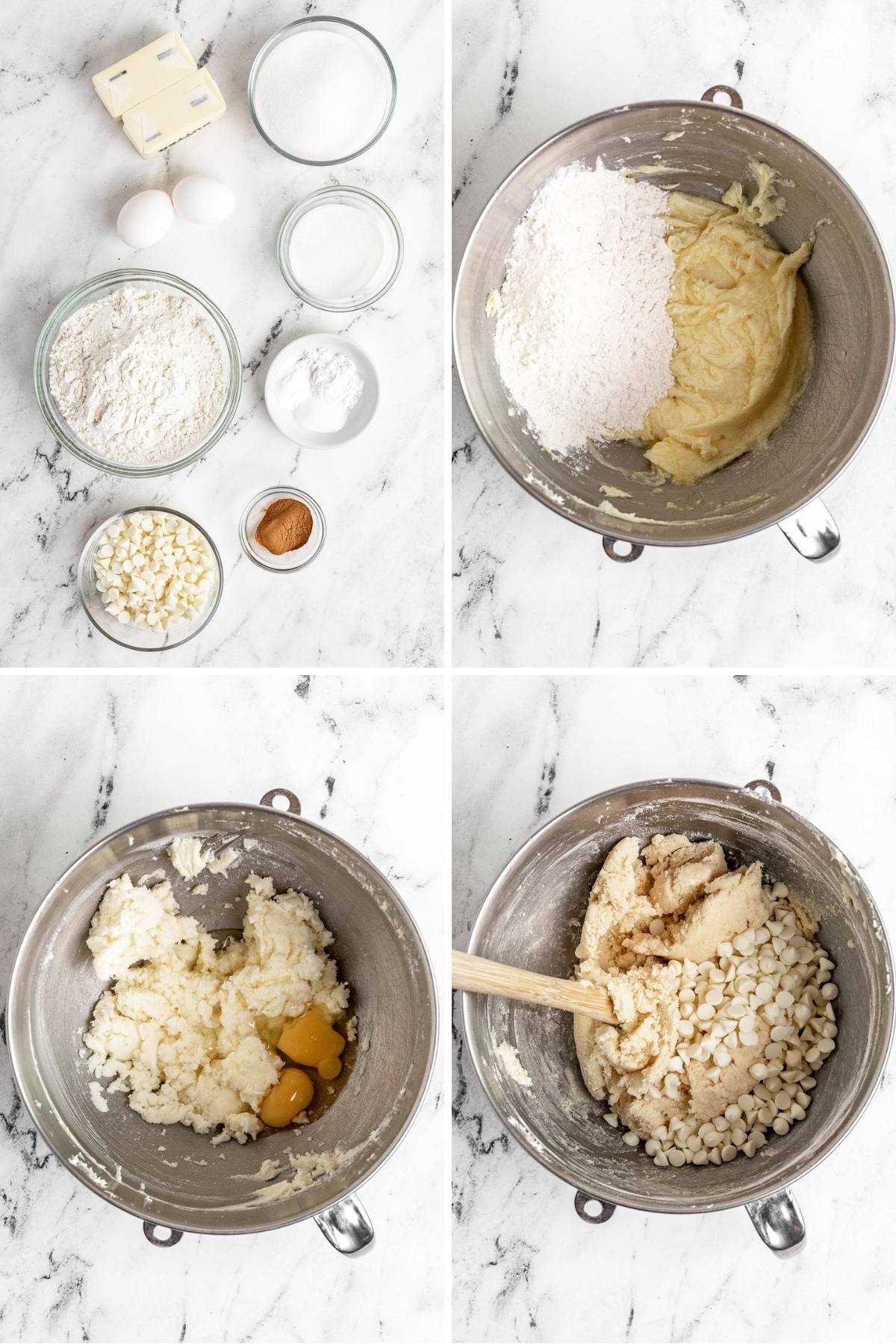 If you are making these White Chocolate Chip Snickerdoodles for the holidays, you can add some festive decorations. Fold in colored sprinkles or baking chips and roll the cookies in decorative sugar to match the occasion. They make a wonderful addition to your Christmas cookie boxes with other classics like Sugar Cookies and Gingerbread Cookies. You could also make a tasty ice cream sundae with warm cookies as the base. Just top the cookies with Vanilla Ice Cream and some salted caramel sauce or an extra dusting of cinnamon sugar.
What is a Snickerdoodle?
Snickerdoodles are a classic Dutch-German cookie recipe, and were originally baked in the shape of a snail which is where they get their name. The "snicker" part comes from Dutch (snekrad) and German (schnecke) words that translate roughly to a "snail like shape". The recipe hasn't changed much, it's always been a chewy, soft cookie with a cinnamon sugar coating. There is a bit of a debate if they were brought over by Dutch immigrants or if they were created by Dutch-German immigrants after they got here but either way they are traced back to New England.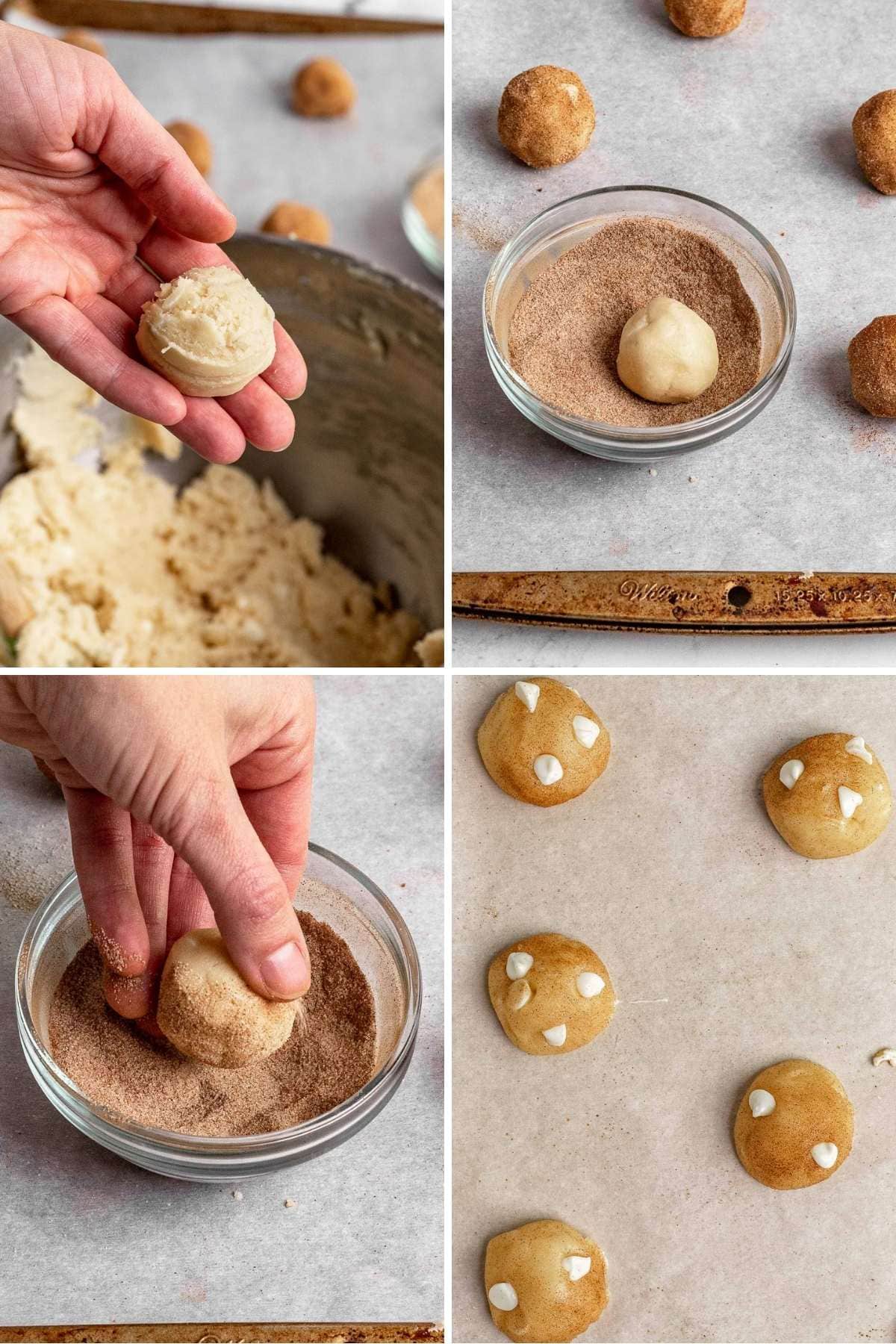 How to Make Snickerdoodle Chip Cookies
Prep: Preheat the oven to 400 degrees, and make sure you've given the butter enough time to soften at room temperature.
Cookie dough: Cream the unsalted butter granulated sugar in your stand mixer until light and fluffy. Whisk in the eggs until combined and a smooth consistency. Mix in the flour, cream of tartar, baking soda, and salt until just combined. Sift the dry ingredients into a separate bowl before adding to the wet ingredients to be sure you don't overmix. Gently fold in the white chocolate chips to finish.
Form: Use a cookie scoop to form the dough into balls. Combine sugar and cinnamon in a small bowl. Roll each dough ball in the cinnamon sugar mixture before placing them on the cookie sheet with about 2 inches between each one so they have room to spread.
Baking time: Place the cookies in the preheated oven, and let them bake for 6-8 minutes. Take the Chocolate Chip Snickerdoodle Cookies out of the oven when they're golden brown with slightly crisp edges. Let the hot cookies cool on a wire rack before serving.
More Snickerdoodle Recipes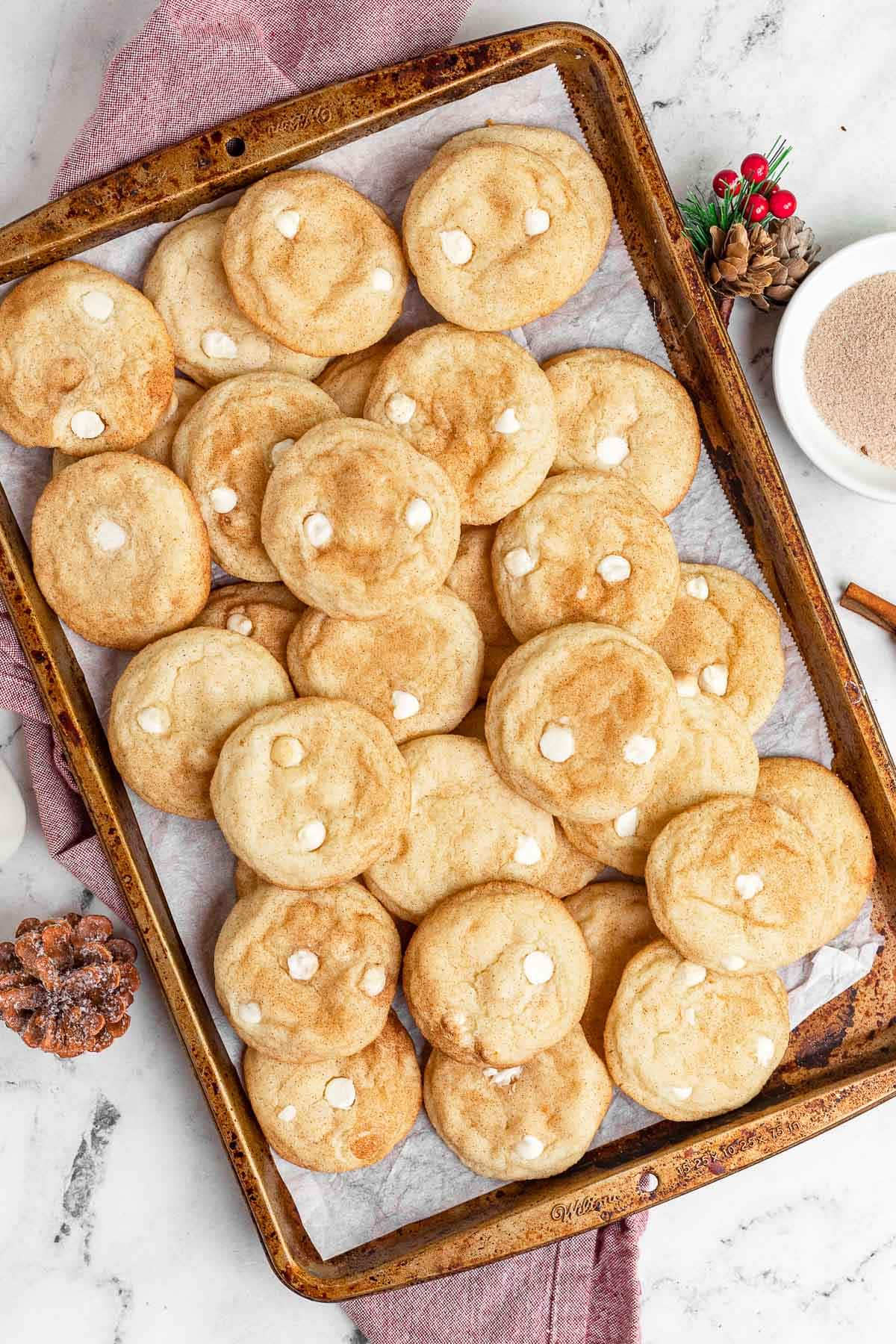 FAQs for Snickerdoodle Chip Cookies
What makes the perfect snickerdoodle cookie?
The best Snickerdoodle cookies are soft with a chewy center, slightly tangy and loaded with cinnamon-sugar flavor! To get the perfect cookie, you want to make sure they are completely coated in the cinnamon-sugar mixture and that you use cream of tartar.
Why do you need cream of tartar in Snickerdoodle Cookies?
The cream of tartar is used to make the cookies rise so they are fluffy and soft. Cream of tartar is also what gives the cookies that signature tangy flavor that makes them melt-in-your-mouth delicious! If you don't have cream of tartar, you can substitute baking powder which will work with the baking soda to make your cookies rise, they just won't be tangy.
Why are my Snickerdoodles flat?
If your cookies keep spreading, the number one culprit is that the temperature is way too warm so the butter melts quickly and thins out your dough. Your oven could be running hot, so lower the heat by 5 degrees or pop your cookies in the fridge for 30 minutes before baking to chill the butter enough that it takes longer to melt.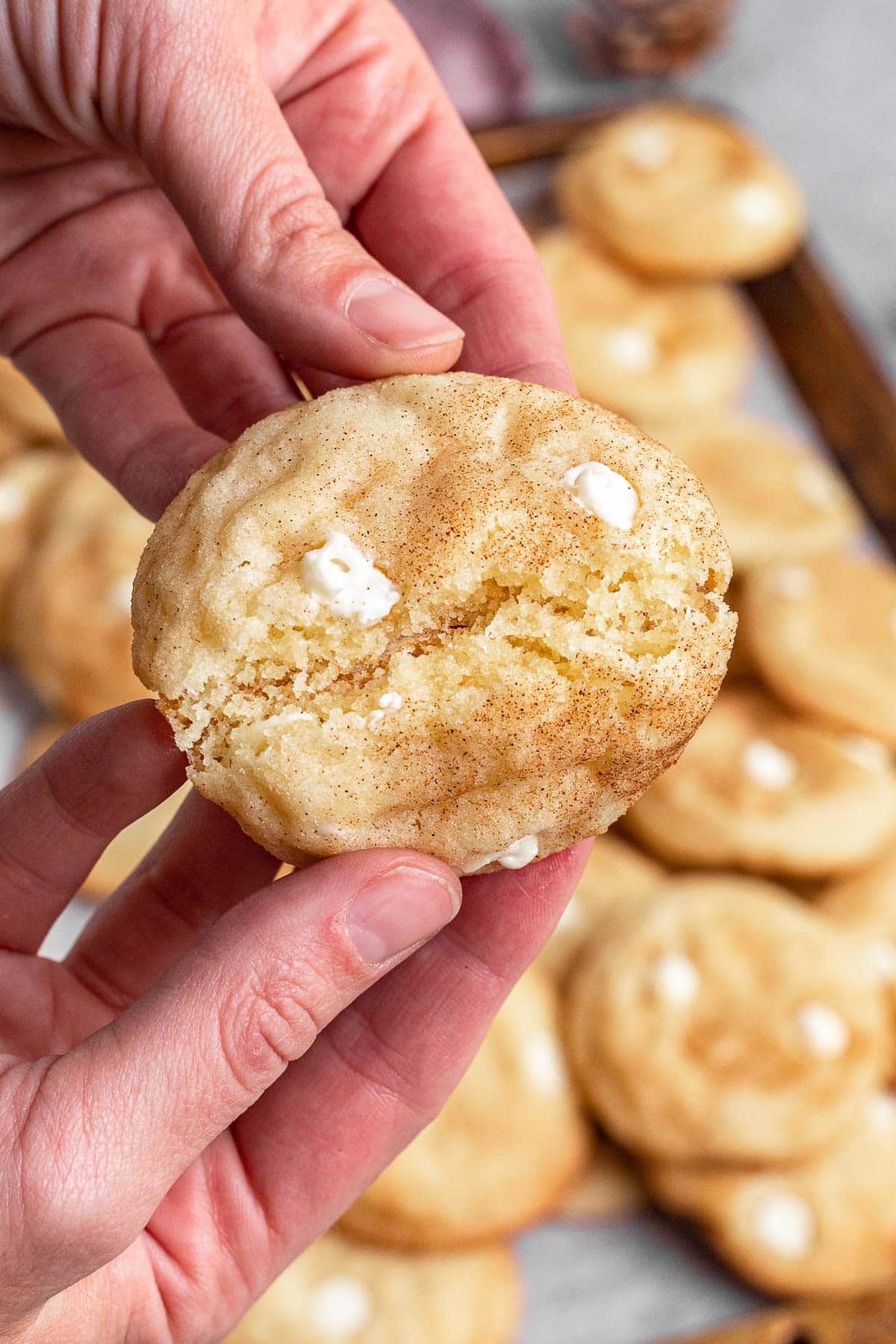 Create a free account to

Save Recipes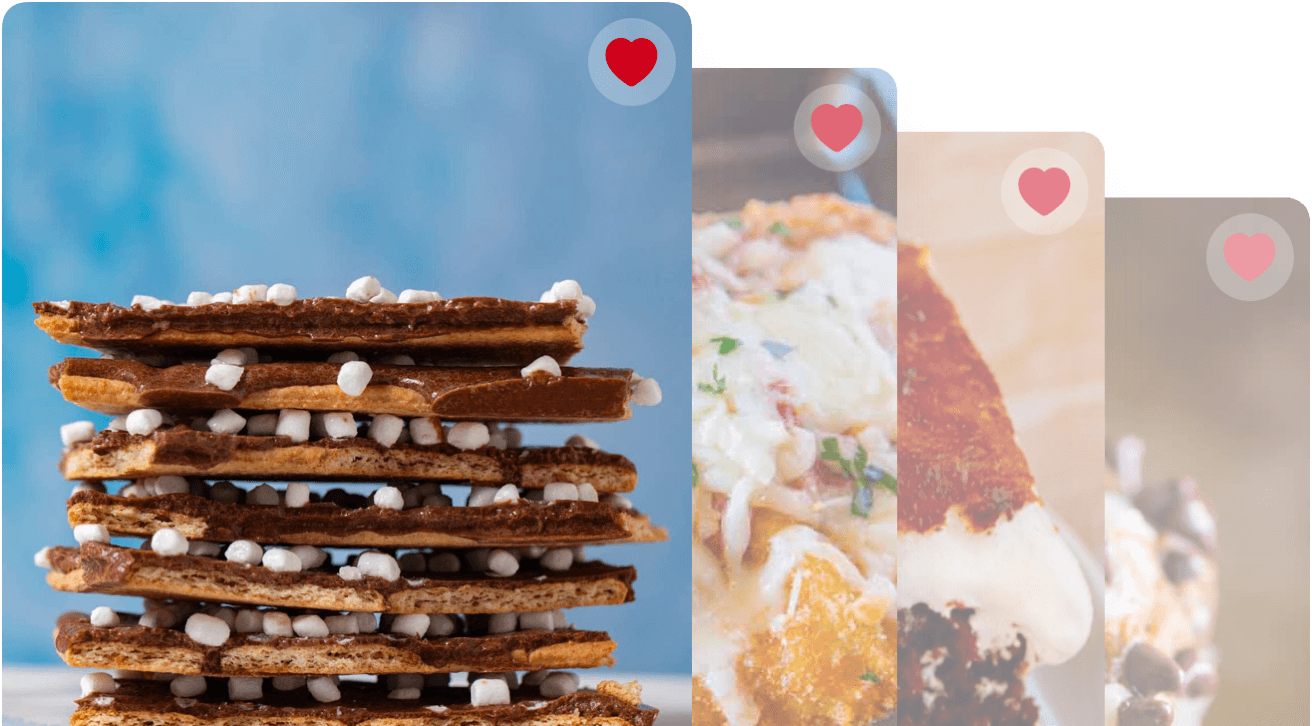 Key Ingredients
Cream of tartar: For the most part, Snickerdoodles are made with basic ingredients. One unique addition to the flour mixture is the cream of tartar. You might be tempted to skip over this ingredient, but cream of tartar prevents sugar from crystalizing and acts as a leavening agent to add to the cookies' texture.
Butter: These cookies get a full cup butter so they are rich and buttery. You want to use softened butter that will cream easily but do not use melted butter or your cookies won't be soft or have that signature chewy center.
Baking Soda: Baking soda works with the Cream of Tartar in a similar way that it does with baking powder, helping the cookies to rise nice and fluffy.
Cinnamon sugar: Just like traditional homemade Snickerdoodle Cookies, this white chocolate chip version is made with a cinnamon coating. The cinnamon-sugar mixture adds the perfect balance of sweetness and warm, cozy spice to the cookie recipe.
Chocolate chips: For this recipe, we used white chocolate chips. Their ultra-sweet flavor pairs wonderfully with the simple cookie base and cinnamon flavor.
Can this Cookie Dough be made ahead of time?
You can definitely make the Snickerdoodle Chip Cookie dough ahead of time and freeze it for later. You can freeze rolled cookies or a whole ball of dough and it will stay good for up to 6 months! Wrap the whole cookie dough in a layer of plastic wrap and then store in a freezer safe bag. Thaw the dough in the fridge and bake as usual. Or roll the dough as usual, freeze for one hour then store frozen cookie dough balls in an airtight container and bake from frozen.
Variations
Brown sugar: For a richer, chewier cookie recipe, you can use half white sugar and half brown sugar. Just keep in mind this will make the recipe taste more like chocolate chip cookies and less like classic Snickerdoodle Cookies.
Nuts: To add some variation to the texture, you can mix in nuts. Chopped pecans, almonds, or walnuts would taste amazing.
Cinnamon chips: To add some extra cinnamon flavor to the cinnamon cookies, add in cinnamon chips. If you still want to keep the white chocolate flavor, you can also use half white chocolate chips and half cinnamon chips.
Chocolate: Another way to make these amazing cookies is to use regular semi-sweet chocolate chips or chocolate chunks instead of white chocolate. You could also dip the cookies in melted chocolate after they have cooled. Add a teaspoon cocoa powder to the coating mixture for another hit of chocolatey goodness.
Baking Powder: If you don't have tartar you can use baking powder instead but you will want to reduce it to just one teaspoon. Keep in mind they won't have that tangy flavor but they will still be delicious!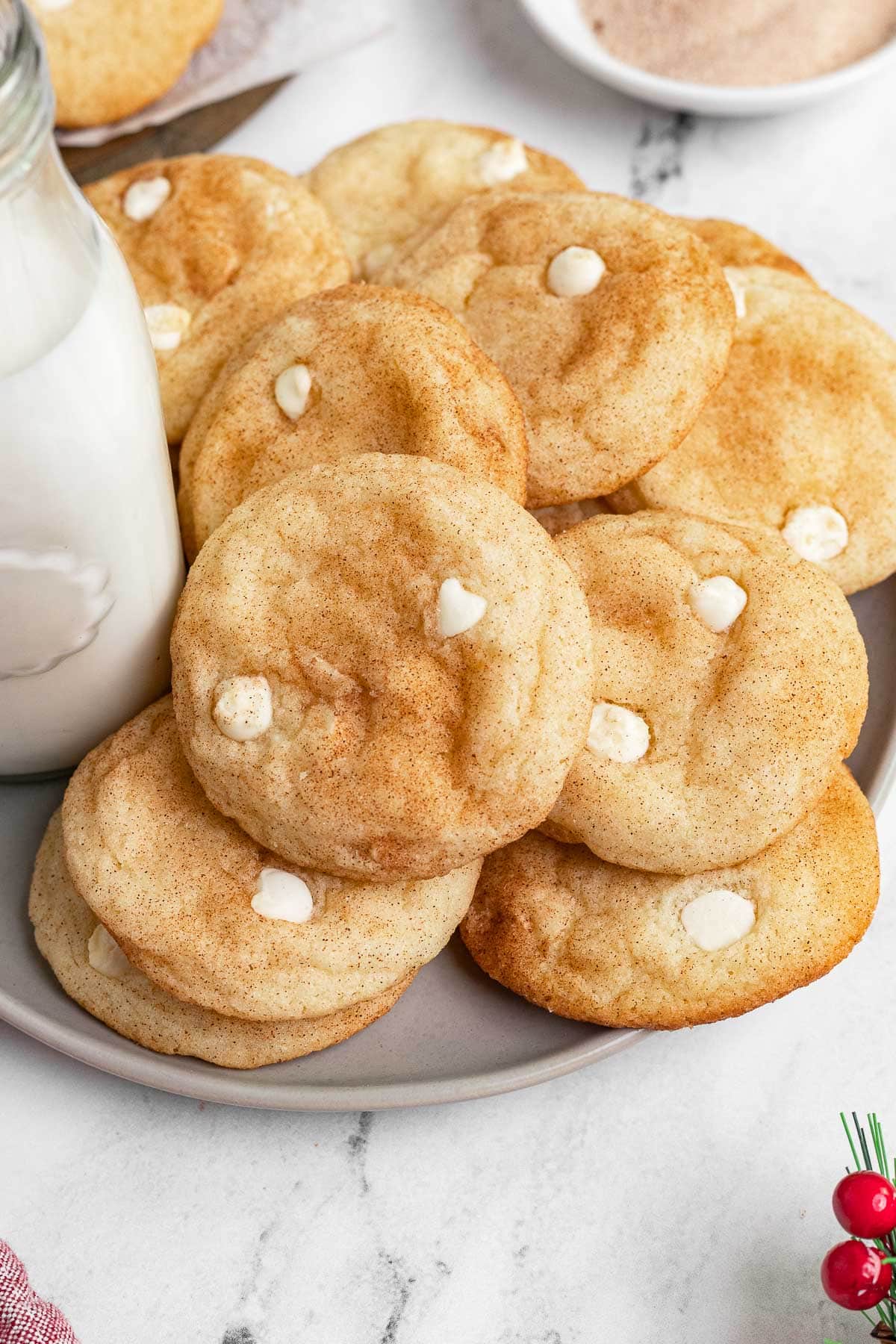 More Holiday Cookie Recipes
Store: You can keep Snickerdoodle Chip Cookies in an air-tight container at room temperature for about 1 week. If you want to store them in the fridge, line the container with a paper towel and store for up to 2 weeks. Warm in the microwave for the best taste and to make them soft again!
Freeze: If you freeze the baked cookies, wrap them in plastic wrap and then tin foil to make sure that the cookies keep their chewy texture. They stay good for up to 2 months if they are baked. Frozen unbaked dough will stay good for up to 6 months.


Ingredients
1

cup

unsalted butter

, softened

1 3/4

cup

sugar

, divided

2

large

eggs

2 1/2

cups

flour

2

teaspoons

cream of tartar

1

teaspoon

baking soda

3/4

teaspoons

salt

1

tablespoon

ground cinnamon

1

cup

white chocolate chips
Instructions
Preheat oven to 400 degrees.

In a stand mixer, whisk the butter and 1 ½ cups of sugar on high speed for

2-3 minutes

until light and fluffy.

Add in the eggs and whisk until fully combined.

Add in the flour, cream of tartar, baking soda, and salt, and turn on low until just combined.

Stir in the white chocolate chips.

In a small bowl, add the last ¼ cup of sugar and cinnamon and stir until combined.

Scoop one tablespoon of cookie dough into the cinnamon and sugar and roll it around.

Place dough on baking sheet 2 inches apart. Bake for

6-8 minutes

, until the edges have just barely started to brown.
Nutrition
Calories:
219
kcal
|
Carbohydrates:
29
g
|
Protein:
2
g
|
Fat:
11
g
|
Saturated Fat:
6
g
|
Polyunsaturated Fat:
1
g
|
Monounsaturated Fat:
3
g
|
Trans Fat:
1
g
|
Cholesterol:
37
mg
|
Sodium:
133
mg
|
Potassium:
86
mg
|
Fiber:
1
g
|
Sugar:
19
g
|
Vitamin A:
262
IU
|
Vitamin C:
1
mg
|
Calcium:
25
mg
|
Iron:
1
mg