Zucchini Patties are an easy delicious summer zucchini recipe! Pan-fried cheesy, garlicky shredded zucchini cakes with a crispy exterior.
Like a cross between Potato Latkes and Zucchini Fries, these easy veggie fritters are hearty enough to be a vegetarian Main Dish but also make a great Side Dish or Appetizer with a creamy dip!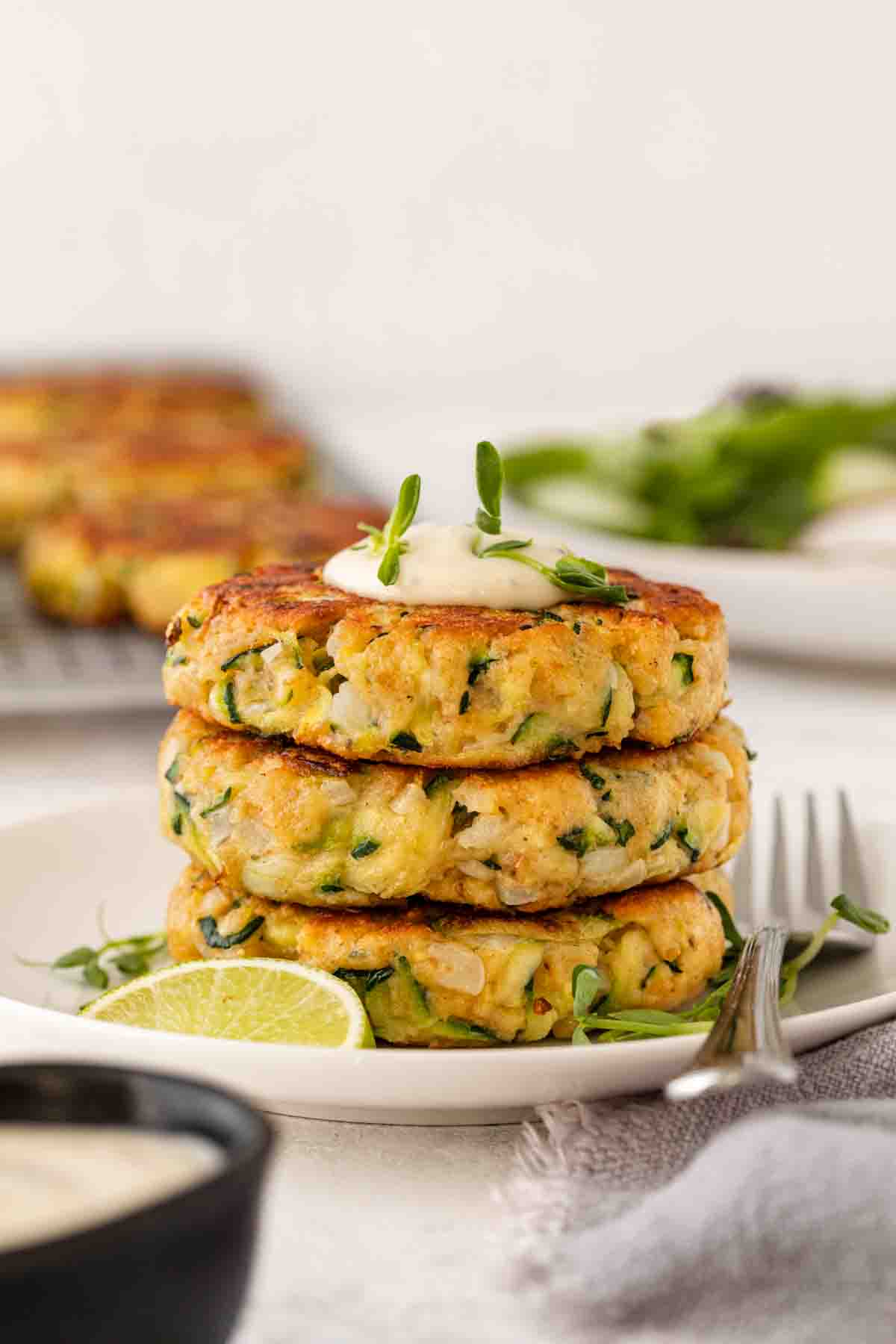 Forget grilling or roasting, these delightful, delicious Zucchini Patty are about to be your favorite way to eat this summer vegetable! They are cheesy and garlicky, wonderfully crisp on the outside, delicious, and low in calories! You can serve up these little patties at a party as an appetizer or as a veggie side kids will love. They are filling enough to be a main dish too!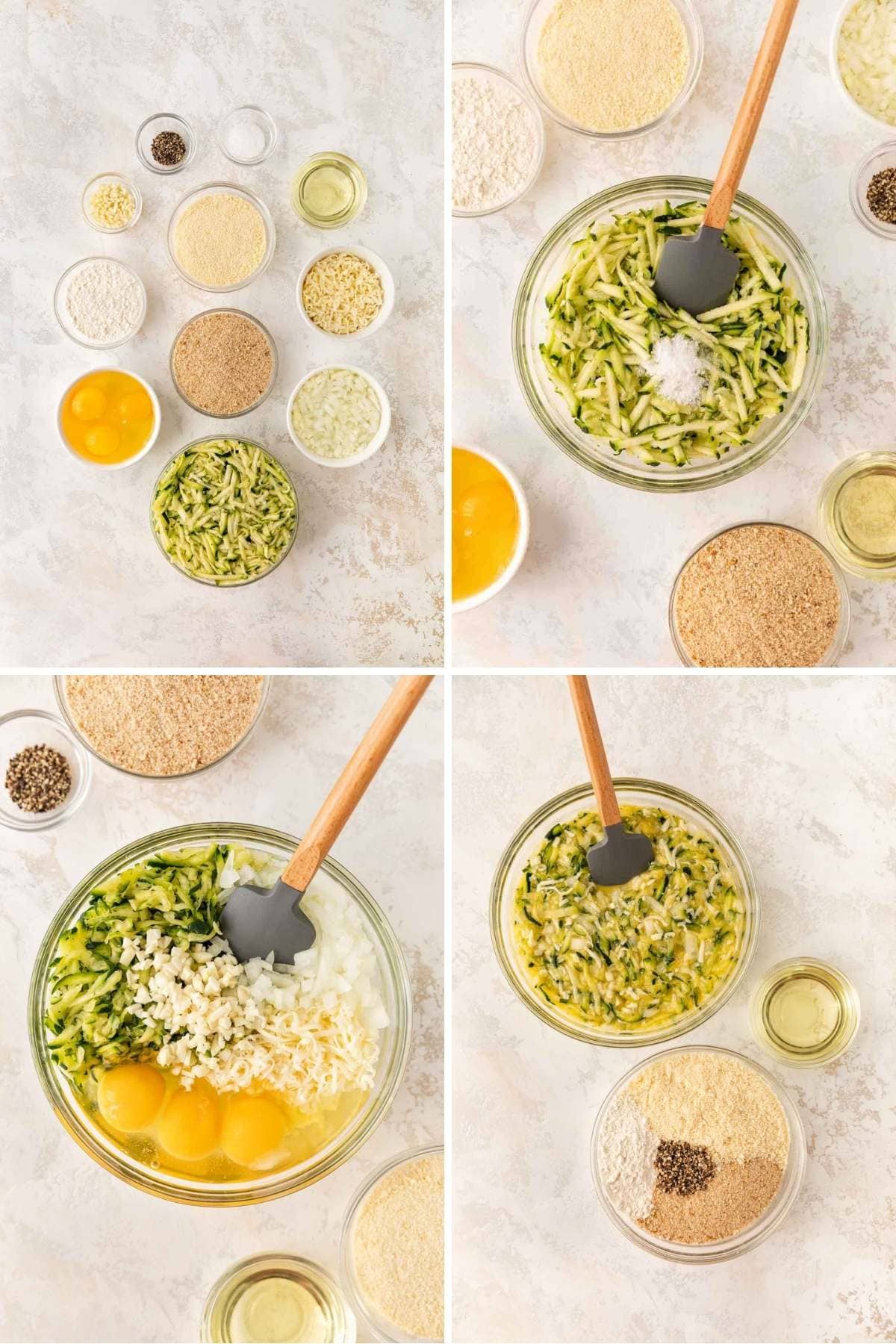 Zucchini Patties are super delicious and they are also super easy to make! Shredded zucchini is mixed with a simple batter of eggs, breadcrumbs, and flour. The zucchini mixture is loaded with mozzarella and Parmesan cheeses too! The cheesy patties are pan-fried in a little oil until hot and crispy then they are ready to gobble up!
The possibilities are endless of how to enjoy these tasty veggie fritters! A simple dollop of sour cream and  a sprinkle of some fresh chives or green onion and they are ready to eat. As an appetizer, try a creamy sauce for dipping like Greek yogurt tzatziki sauce or Ranch Dressing. Smother them in Marinara Sauce and melted mozzarella cheese for a healthy vegetarian twist on Chicken Parmesan, or just serve them as the side instead of pasta.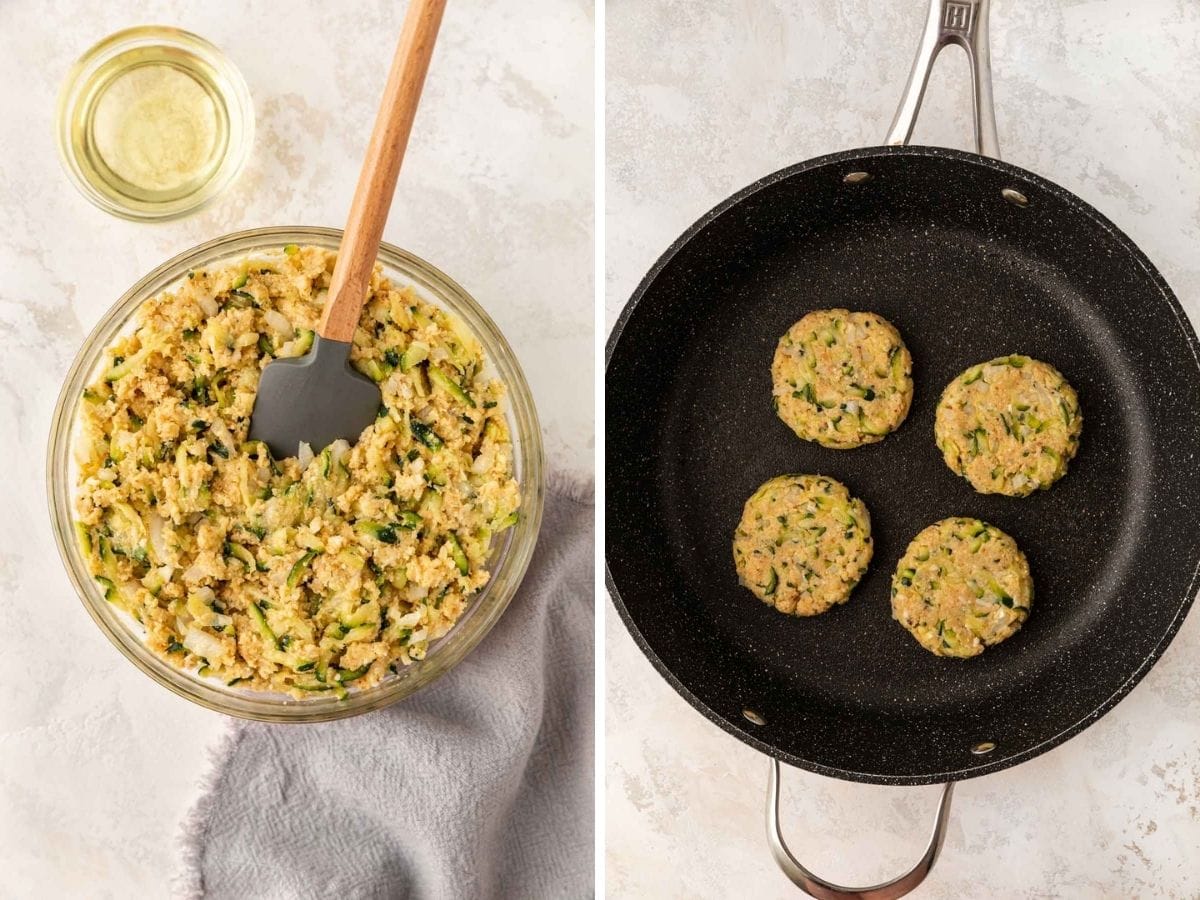 How to Make Zucchini Patties
Prep: Shredding the zucchinis with a cheese grater or food processor. Soak the zucchini in a medium bowl with salt for 20 minutes to draw out the excess moisture. Drain and squeeze out as much liquid as possible.
Egg Batter: Add the zucchini to a large mixing bowl with the onions, garlic, eggs, and mozzarella cheese. Stir until the zucchini mixture is well combined.
Patties: Combine the breadcrumbs, flour, Parmesan cheese, and pepper in a separate bowl. Add the breadcrumb mixture to the same bowl as the zucchini and mix well.
Cook: Heat oil in a large skillet over medium-high heat. Scoop even portions of the zucchini mixture onto the hot skillet, gently forming them into circles. Cook on each side for 4-5 minutes until cooked through and slightly golden brown.
Note: If you just set the cooked patties on a plate, they'll start to steam and become soggy. To prevent that, let them cool on a wire cooling rack.
More Tasty Veggie Appetizers
FAQs for Zucchini Patties
Do you soak zucchini in salt water and why?
Yes, zucchini is often soaked in salt water before using it in recipes like zucchini patties. The saltwater soak helps draw out excess moisture from the zucchini, preventing the patties from becoming too watery during cooking and ensuring they maintain a better texture and don't become soggy.
How do you shred zucchini quickly?
To shred zucchini quickly, you can use a box grater or a food processor with a shredding attachment. Simply trim the ends of the zucchini, wash it thoroughly, and then run it along the shredding side of the grater or through the food processor to create fine shreds in no time.
Why are my Zucchini Patties falling apart?
Excess moisture in the zucchini can make the patties too wet and cause them to break apart during cooking. Make sure to salt the grated zucchini and squeeze out as much water as possible before mixing. If they are too wet and crumbling, you can try adding a little flour to thicken the batter.

Create a free account to

Save Recipes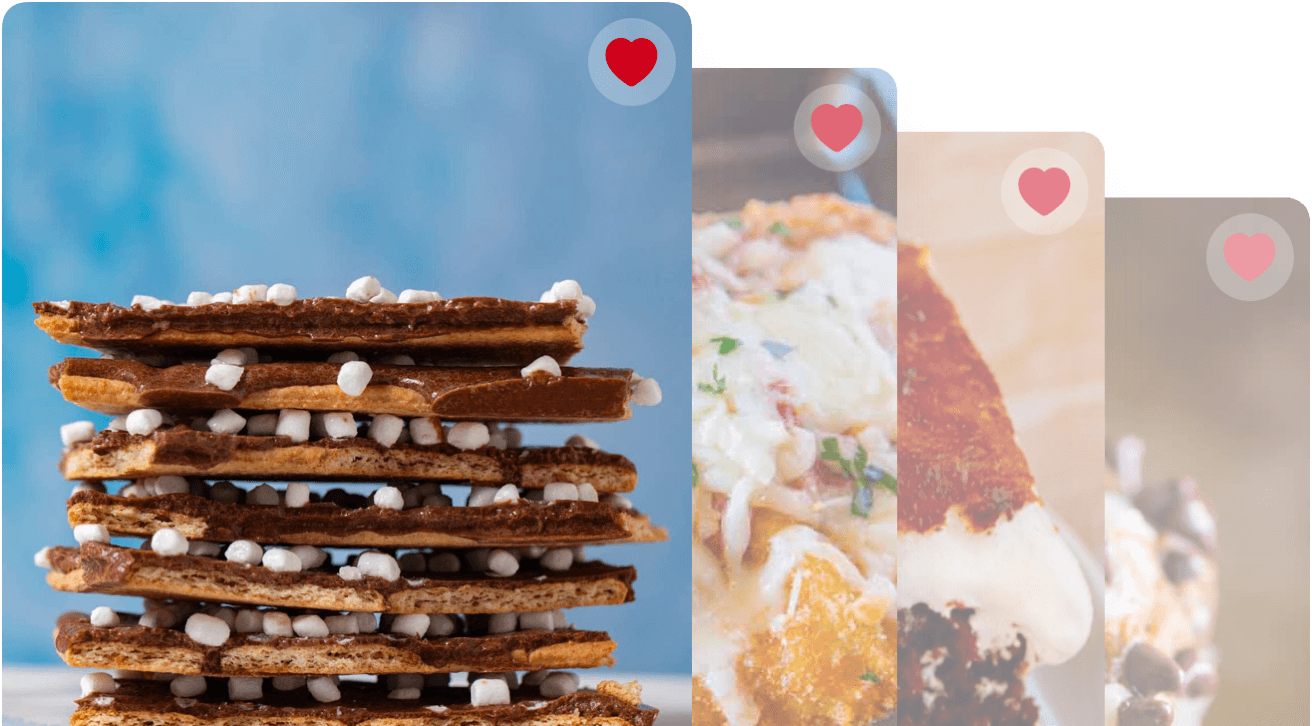 Key Ingredients
Zucchini: The mild earthy flavor of fresh zucchini is perfect for fritters. Use the regular or large side of a grater, so you get substantial shreds. Salting them to remove the excess moisture is keep to perfectly crispy fritters that aren't watery.
Onion and Garlic: Some garlic and onion add to the fresh garden flavor, but they are minced finely so they don't overpower the delicate zucchini flavor.
Breadcrumbs: Along with the zucchini, the dry breadcrumbs make up the base of the patties. The breading toasts while the patties cook to give them a delicious and crispy texture.
Flour: A little flour is needed to thicken up the egg batter and help keep the patties from falling apart.
Cheese: Both Mozzarella and Parmesan cheese are classic in Italian cuisine, so they give the fritters a slight Italian flavor. They also taste amazing with the refreshing zucchini.
Eggs: The eggs are crucial in the mix because they help all the other recipe ingredients to stick together and stay in shape and they form a thicker batter than lighter fritters.
Can Zucchini Patties be made ahead of time?
Yes, these Zucchini Patties can definitely be made ahead of time. Prep the zucchini mixture, then form into patties and place on a baking sheet. Place parchment paper between the layers so they don't stick together. Cover the baking tray of uncooked patties and store in the refrigerator for up to 24 hours. You can also freeze the uncooked patties for up to 3 months then cook from frozen or thaw first then pan-fry as usual. If freezing, let them freeze solid on the baking tray before transferring to a freezer safe container for longer storage.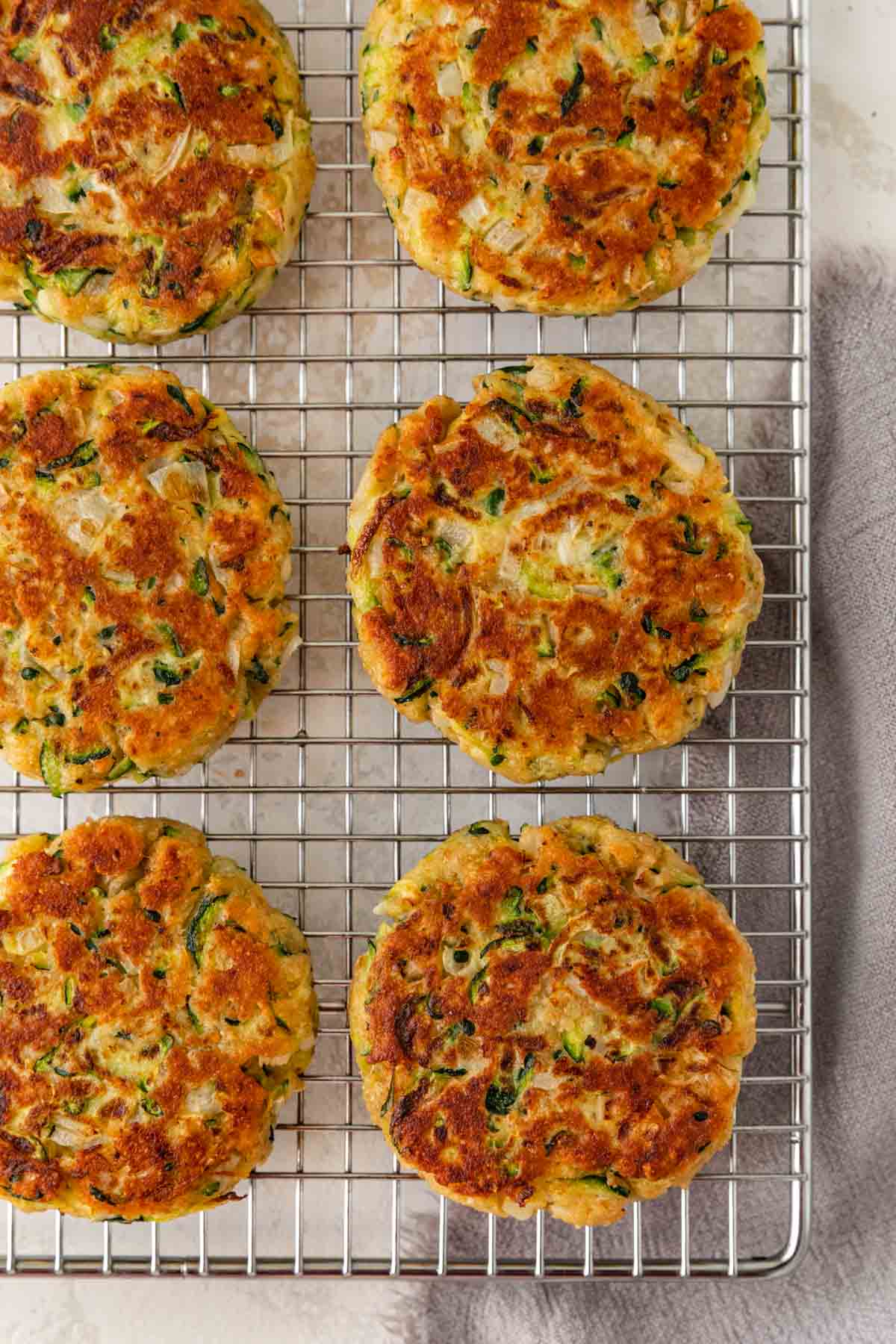 Variations
Veggies: Instead of sticking to just zucchini patties, you can make this recipe with a mix of different shredded vegetables. Carrots, parsnips, and sweet potatoes would all taste amazing in a vegetable patty.
Herbs: To add some more flavor to the recipe you could mix fresh herbs with the vegetable mixture. Try fresh parsley leaves, fresh mint, or fresh dill, or swap in any dried herb seasoning blends you prefer.
Cheese: You can add different kinds of cheese to the Zucchini Fritters to go along with the Parmesan and mozzarella, like provolone cheese, cheddar cheese, Pepper Jack, or feta cheese. You want to keep it to about ½ cup of cheese total so they don't fall apart or overpower the delicate fresh zucchini.
Zucchini Fritters: To make these into Crispy Zucchini Fritters, you need to adjust the original fritter batter to just 1 egg, ½ cup of cheese total, and no breadcrumbs. The rest of the ingredients stay the same and you'll cook them the same.
Garlic Dill Sauce: Blend some sour cream or Greek yogurt with minced garlic cloves and fresh dill leaves for a quick and delicious creamy Garlic Dill Sauce. To keep it dairy free, use a vegan cream cheese or sour cream substitute.
Baked Zucchini Patties
Preheat the oven to 425 degrees.
Prepare the zucchini mixture as instructed in the original recipe.
Line a baking sheet with parchment paper or lightly grease it with cooking spray.
Instead of pan-frying, shape the zucchini mixture into patties and place them on the prepared baking sheet.
Bake the zucchini patties in the preheated oven for about 20-25 minutes or until they are golden and crispy on the outside and cooked through in the center.
To make them crispier, you can brush the tops with olive oil before baking.
Once baked, remove the patties from the oven and cool slightly before serving.
Air Fryer Zucchini Patties
Prepare the zucchini mixture per the recipe card.
Shape mixture into patties and place on a baking sheet lined with parchment paper.
They will stay together better in the air fryer if you chill them first.
Preheat the air fryer to 375 degrees.
Lightly spray the air fryer basket with cooking oil.
Place the patties in the air fryer basket in a single layer, leaving some space between each patty.
Air fry the zucchini patties for 10-12 minutes, flipping them halfway through, or until they are golden brown and cooked through.
Once cooked, transfer the patties to a cooling rack or plate and let them cool slightly before serving.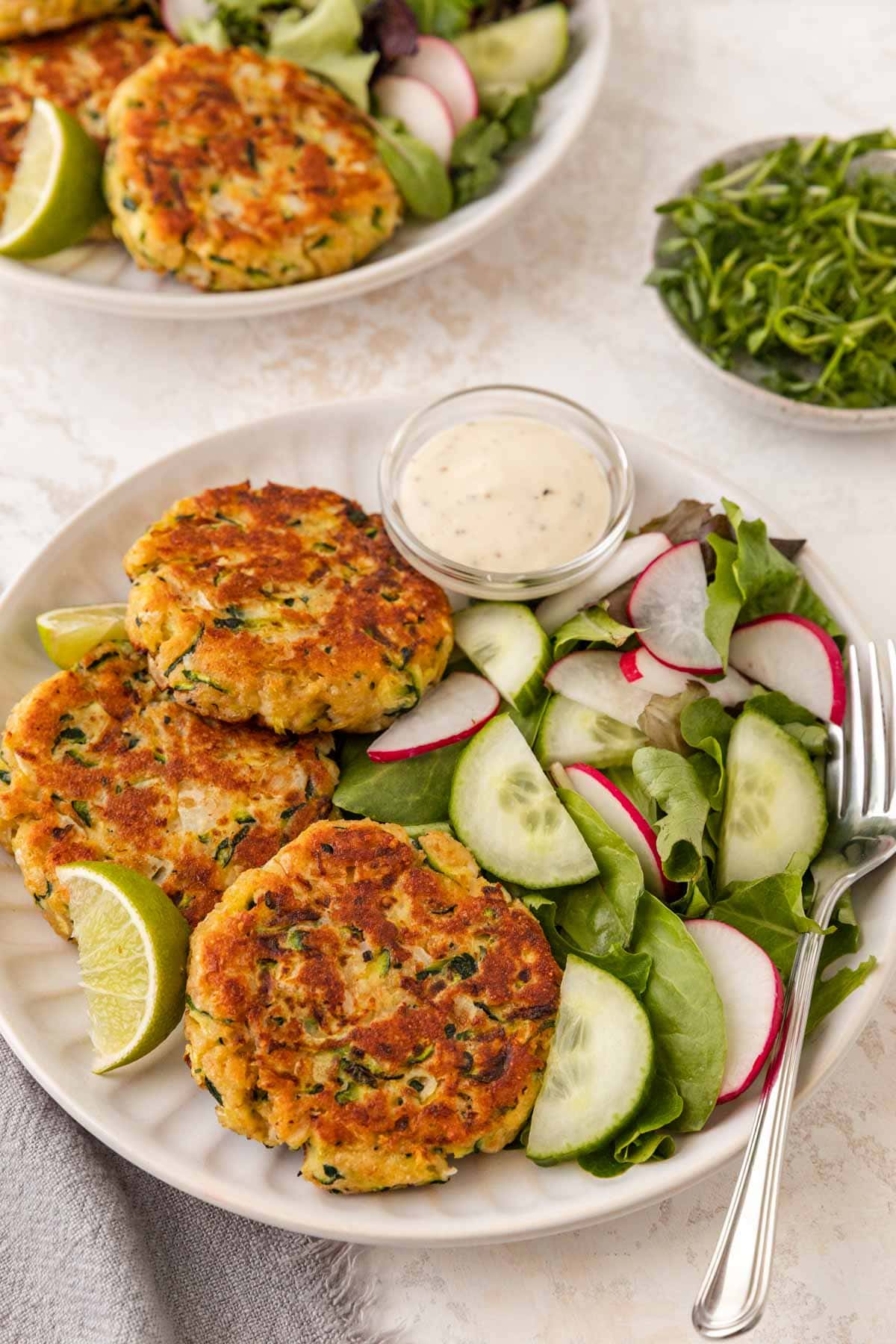 Delicious Sweet Zucchini Recipes!
How to Store
Store: These Zucchini Patties can be at room temperature for up to 2 hours. Store any leftovers in an airtight container for up to 5 days.
Reheat: It's best to reheat leftover fritters in the oven or in a skillet over medium high heat so they get crispy again.
Freeze: Flash freeze leftover zucchini fritters in a single layer on baking sheets for an hour. Once they're frozen solid, transfer to a sealed container and keep in the freezer for up to 3 months. Reheat from frozen or thaw overnight in the fridge first.


Ingredients
2

cups

zucchini

, grated

1/2

teaspoon

kosher salt

1/2

yellow onion

, minced

2

cloves

garlic

, minced

3

large

eggs

1/2

cup

mozzarella cheese

, shredded

3/4

cup

breadcrumbs

1/4

cup

flour

1/2

cup

Parmesan cheese

1/4

teaspoon

coarse ground black pepper

1/4

cup

vegetable oil
Instructions
In a large bowl mix the zucchini and salt.

Let sit for

20 minutes

, then remove zucchini in small handfuls and squeeze well to remove as much water as possible.

Add squeezed zucchini to a mixing bowl with onions, garlic, eggs, and mozzarella cheese, mixing well.

In a small bowl stir together the breadcrumbs, flour, parmesan cheese, and pepper, then add it to the mixing bowl with the zucchini and stir well to combine.

Add vegetable oil to a large heavy skillet on medium-high heat.

Add ¼ cup spoonfuls to the skillet and shape into an even circle.

Cook for

4-5 minutes

on each side until the center is cooked through.

Add cooked patties to a cooling rack instead of a plate to prevent them from steaming and becoming soggy.
Nutrition
Calories:
111
kcal
|
Carbohydrates:
5
g
|
Protein:
3
g
|
Fat:
9
g
|
Saturated Fat:
2
g
|
Polyunsaturated Fat:
4
g
|
Monounsaturated Fat:
2
g
|
Trans Fat:
1
g
|
Cholesterol:
70
mg
|
Sodium:
175
mg
|
Potassium:
125
mg
|
Fiber:
1
g
|
Sugar:
1
g
|
Vitamin A:
164
IU
|
Vitamin C:
6
mg
|
Calcium:
19
mg
|
Iron:
1
mg