Air Fryer Bacon makes it super easy to make perfectly crisp bacon in just 10 minutes! Enjoy fresh bacon anytime you want with little cleanup.
This air fryer method is the perfect easy way to make crispy bacon for the side of all your favorite Breakfasts. You can enjoy the bacon with Fluffy Pancakes, Scrambled Eggs, Breakfast Burritos, and more.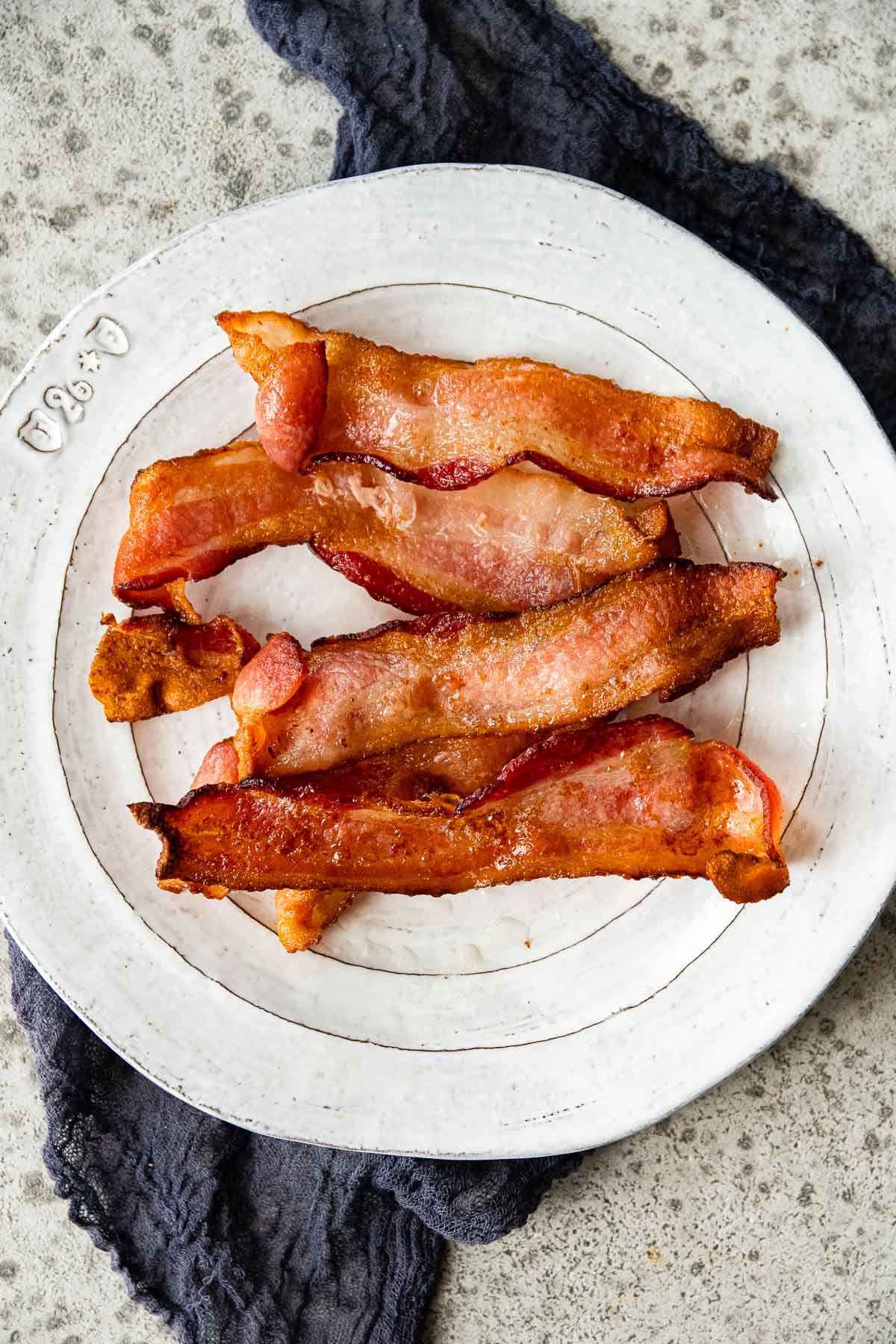 Who doesn't love the crispy, fatty, salty taste of bacon? It turns favorite recipes like mac and cheese or mashed potatoes into out of this world good. The only downfall of making this delectable slice of heaven is that it can be time consuming and make a bit of a mess with the excess grease. If you have an air-fryer though, you can make bacon anytime with so little clean up you might be making it every night!
If you are familiar with cooking in an air-fryer, you already know that it can be used to make all your favorite dishes from hamburgers to donuts to fried chicken. Bacon is just as easily made in this wonderful kitchen tool! It makes the crispiest bacon that is evenly cooked so you'll never have soggy or burnt bacon ever again. If you need a sign to go out and buy an air fryer, this bacon recipe is it.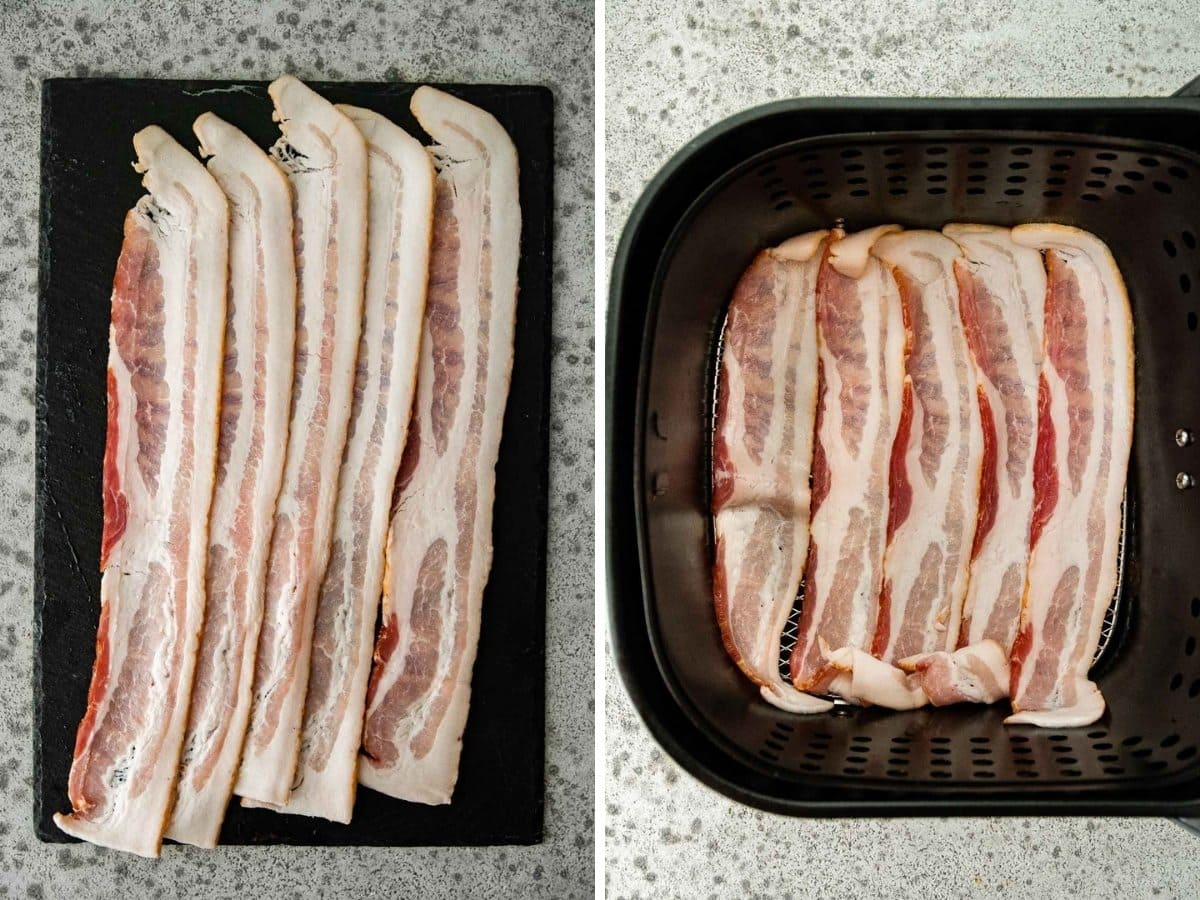 Amazing, salty, crispy bacon adds so much flavor to all your favorite recipes and you can make a bunch of it with almost no cook time with an air fryer. This is a great recipe to make bacon bits for salad, layer in a BLT Sandwich, or crumble over the top of your favorite soups. Crisp bacon pieces are a must have for topping creamy soups and chowders like Baked Potato Soup and Corn Chowder. Of course it can be enjoyed all on its own for a tasty snack with this super quick and easy recipe too!
If you don't have an air fryer, another option you can try is Oven-Baked Bacon. It's also super easy, and you don't have to worry about standing over a frying pan and getting hot oil spit on you. Using the oven lets you make large batches of bacon in no time at all and is just as easy as the air frying method.
This is a great recipe to make bacon to prep for other recipes ahead of time. Because the bacon grease mostly drains off, you don't have to worry about the bacon becoming soggy when you try to store it. You can even freeze bacon for up to a month. To use it for recipes in the future, cook a bunch of bacon first and then chop it into bits once it has cooled. Then you can store it in a big container and just scoop out what you need for any recipe that calls for cooked bacon pieces.
How to Make Air-Fryer Bacon
Prep time: If you need to defrost the meat, get it out about 30 minutes before starting the recipe. Then preheat the air fryer to 360 degrees.
Cooking time: Lay the bacon slices in a single layer over the air fryer basket. Then cook for 10-12 minutes. Use tongs to remove the Air Fryer Bacon without burning yourself and enjoy while they're still sizzling and warm.
Batches: If you have a big group to feed, you might want to make a couple of batches. Set the already cooked bacon on a paper towel-lined plate while you prep the next batch. You'll also want to wipe down the fryer between batches to get rid of excess grease and bacon fat. Then place the next batch in the basket and fry according to the original recipe.
More Bacon Recipes
FAQs for Air Fryer Bacon
How to stop air fryer bacon from smoking?
To stop your bacon from smoking, keep your air fryer at 360 degrees. 360 degrees is below the smoke point for bacon fat, but it will still make nice crispy bacon pieces.
Can I cook turkey bacon in the air fryer?
Yes, you can easily alter this recipe to make turkey bacon in the air fryer. Turkey bacon does have less fat naturally than regular bacon and cooks quicker so keep that in mind.
Why should I make bacon in the air fryer?
The great part about making bacon in the air fryer is that you can get the perfect bacon without grease splatters. It's great if you're trying to eat healthier too because the bacon grease all drips down into the air fryer basket.
Can I cook frozen bacon in the air fryer?
Yes, you can cook frozen bacon in the air fryer. You'll just have to add a few extra minutes to the cooking time. Lay the frozen bacon in the air fryer basket and cook for 8 minutes. Then open the fryer and use tongs to spread the bacon strips into an even layer. Cook for another 4-6 minutes to finish the crispy bacon. 
Do I need to preheat my Air Fryer?
You do want to preheat your Air Fryer before you start cooking the bacon so that you get the crispiest bacon. This ensures an even temperature when you start air frying. Iif you are making lots of bacon in batches, make sure to let the unit preheat a few minutes every time to bring it back to the correct temp.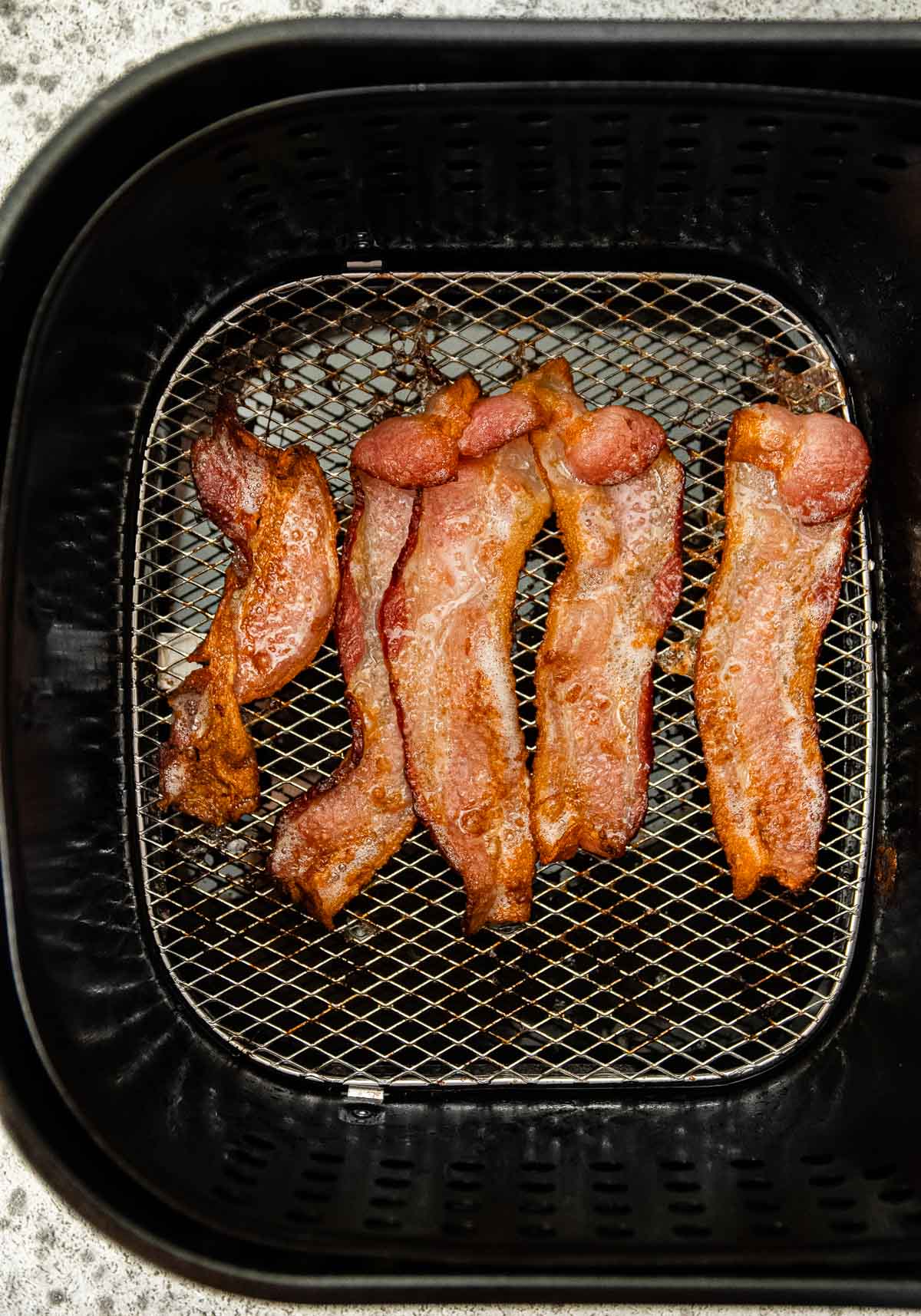 Create a free account to Save Recipes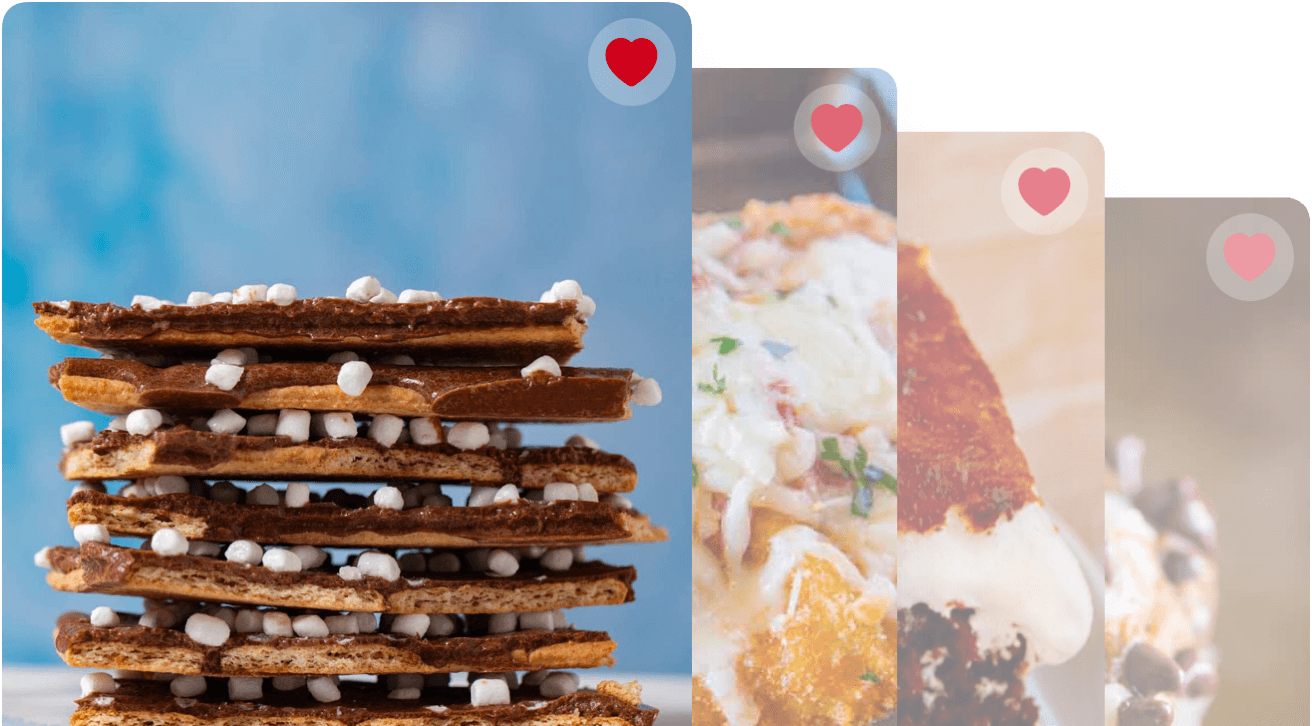 Key Ingredients
If you're looking for a simple ingredients list, you really can't beat this air fryer recipe. Literally, all you need are bacon strips. You can use whatever your favorite brand of bacon is just as long as it's not thick-cut bacon. The settings and instructions for this recipe are all to cook thinner bacon and thick cut bacon tends to make a lot of bacon grease which won't result in the crispiest bacon.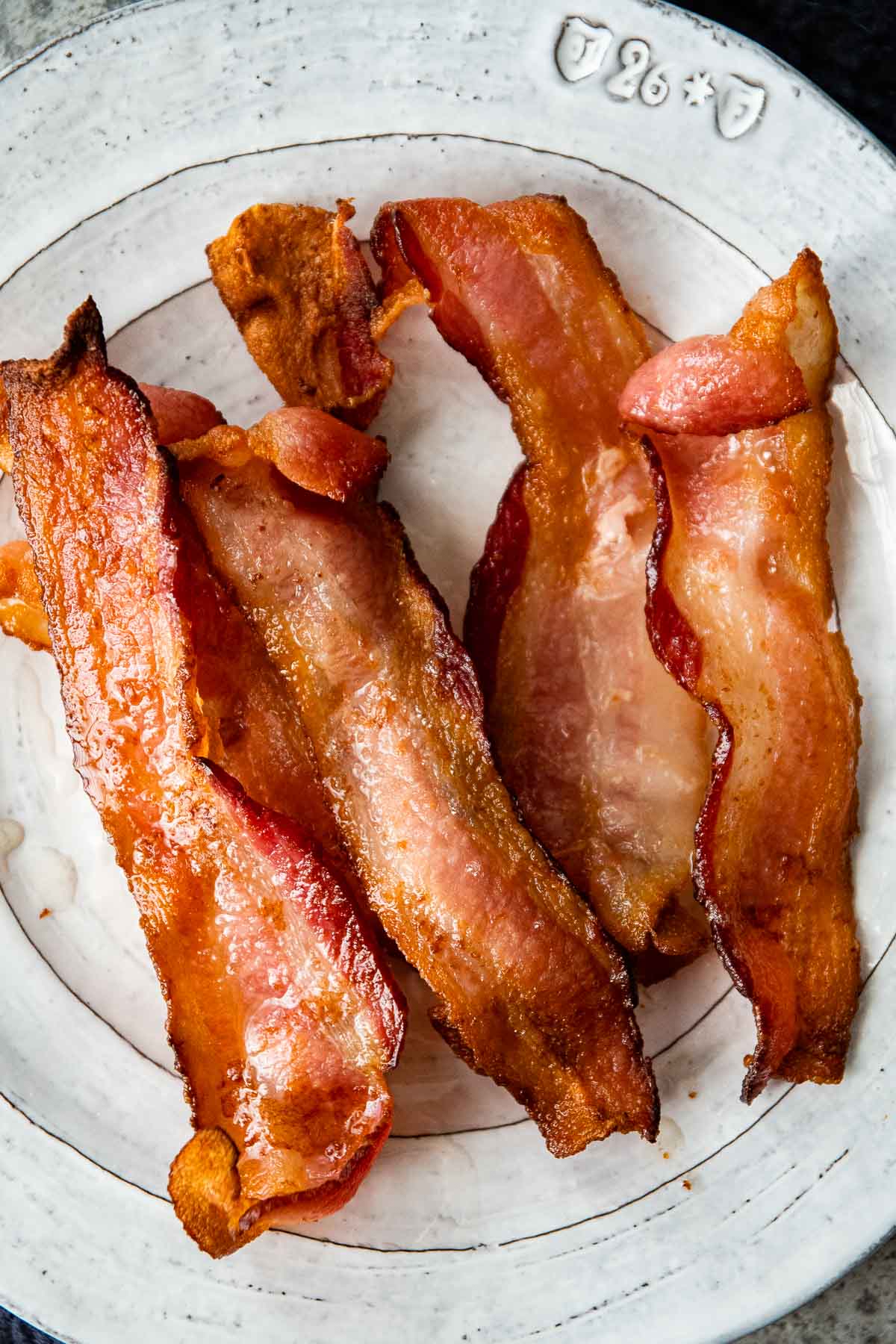 VARIATIONS
Seasonings: As an optional step to add more flavor to your bacon, you can season the bacon strips before putting them in the fryer. Try adding savory spices like garlic powder, smoked paprika, or chili powder. You can even add cayenne pepper to make spicy bacon!
Candied bacon: You can also make this recipe with a sweet, smoky, candied coating. Rub the bacon slices in brown sugar so that each piece is coated. Then season them with a sprinkling of salt and black pepper. Cook in the air fryer as usual for the perfect savory and sweet bacon treat.
Turkey bacon: You can also use the air fryer cooking method to make turkey bacon. Preheat the air fryer to 360 degrees, and lay the turkey strips in a single layer in the air fryer basket, just like the original recipe. Then air fry for 10 minutes or until the turkey bacon is crisp.
Oven-Baked Bacon
Preheat the oven to 400 degrees.
Line a baking sheet with parchment paper and top with a metal wire rack.
Lay the bacon strips over the cooling rack in a single layer.
For more flavor, you can sprinkle black pepper over the bacon.
Bake in the oven for 15-18 minutes until crispy and browned.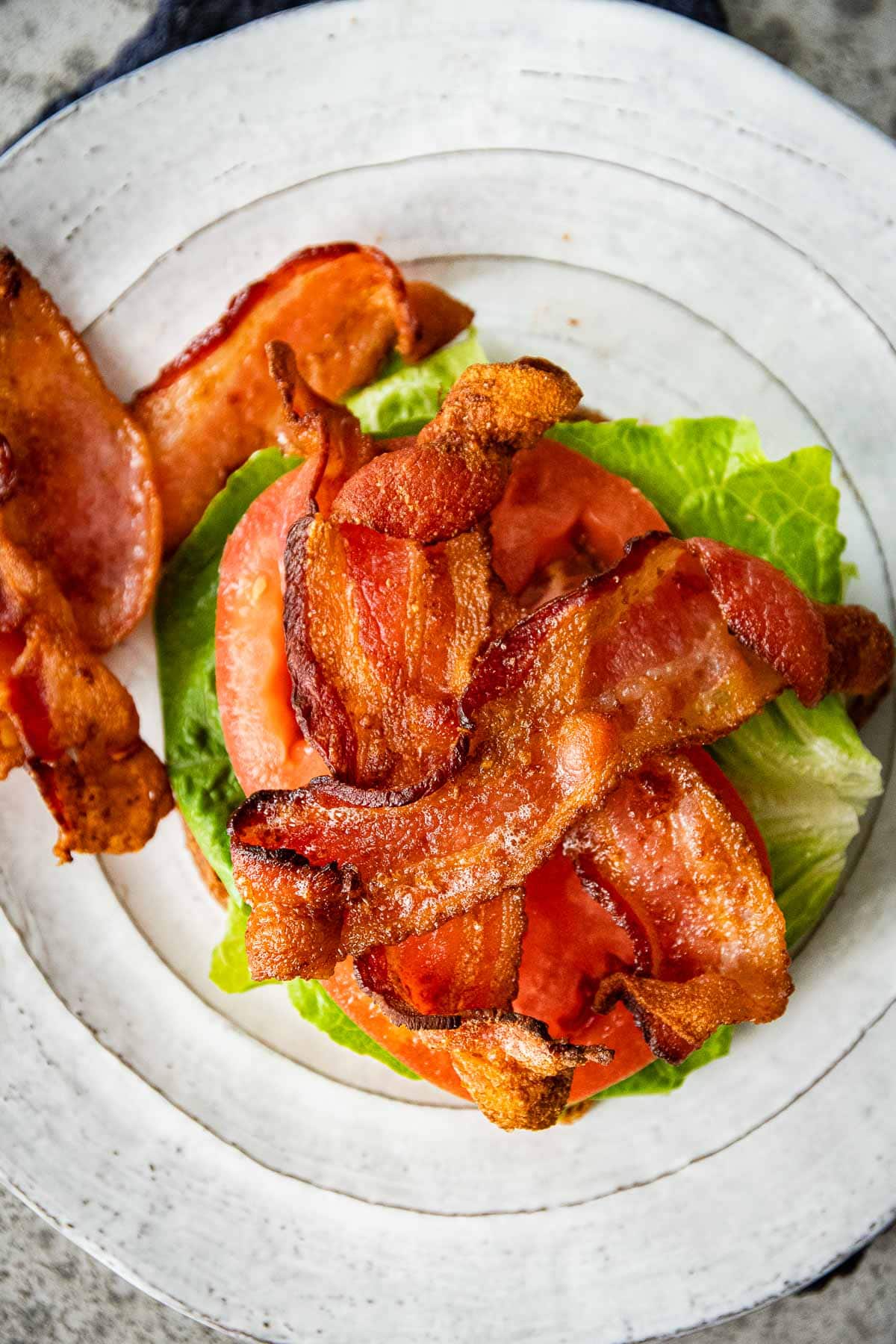 Breakfast Favorites
How to Store
Serve: Bacon can be at room temperature for no more than 2 hours. You can keep it warm in the oven on a baking sheet for up to 1 hour before it should be stored.
Store: You can store leftover bacon in an airtight container in the fridge for 4-5 days. Wait for it to cool first, then store with paper towels at the bottom to absorb any excess bacon grease. To reheat bacon, you can just pop it back in the air fryer or into the oven until it is warm and crispy again.
Freeze: To freeze the bacon, lay the pieces in a flat layer on a parchment-lined baking sheet and freeze for 1-2 hours. Then transfer the frozen bacon to an airtight container. The bacon will keep well frozen for up to 1 month.


Ingredients
5

slices

bacon

, not thick cut

1/4

teaspoon

coarse ground black pepper

, optional
Instructions
Preheat air fryer to 360 degrees.

Lay the bacon in a single layer in the basket. Sprinkle on black pepper, if desired.
Nutrition
Calories:
134
kcal
|
Carbohydrates:
1
g
|
Protein:
10
g
|
Fat:
10
g
|
Saturated Fat:
3
g
|
Polyunsaturated Fat:
2
g
|
Monounsaturated Fat:
4
g
|
Cholesterol:
34
mg
|
Sodium:
800
mg
|
Potassium:
138
mg
|
Calcium:
3
mg
|
Iron:
1
mg