Air Fryer Chicken Breast is the easiest way to make tender, juicy chicken seasoned and cooked to perfection in just 20 minutes.
Simple, flavorful chicken breast recipes like this one make such an easy and versatile Weeknight Dinner. For more ways to prepare your chicken recipe try Slow Cooker Chicken Breast or Oven-Roasted Chicken Breast next.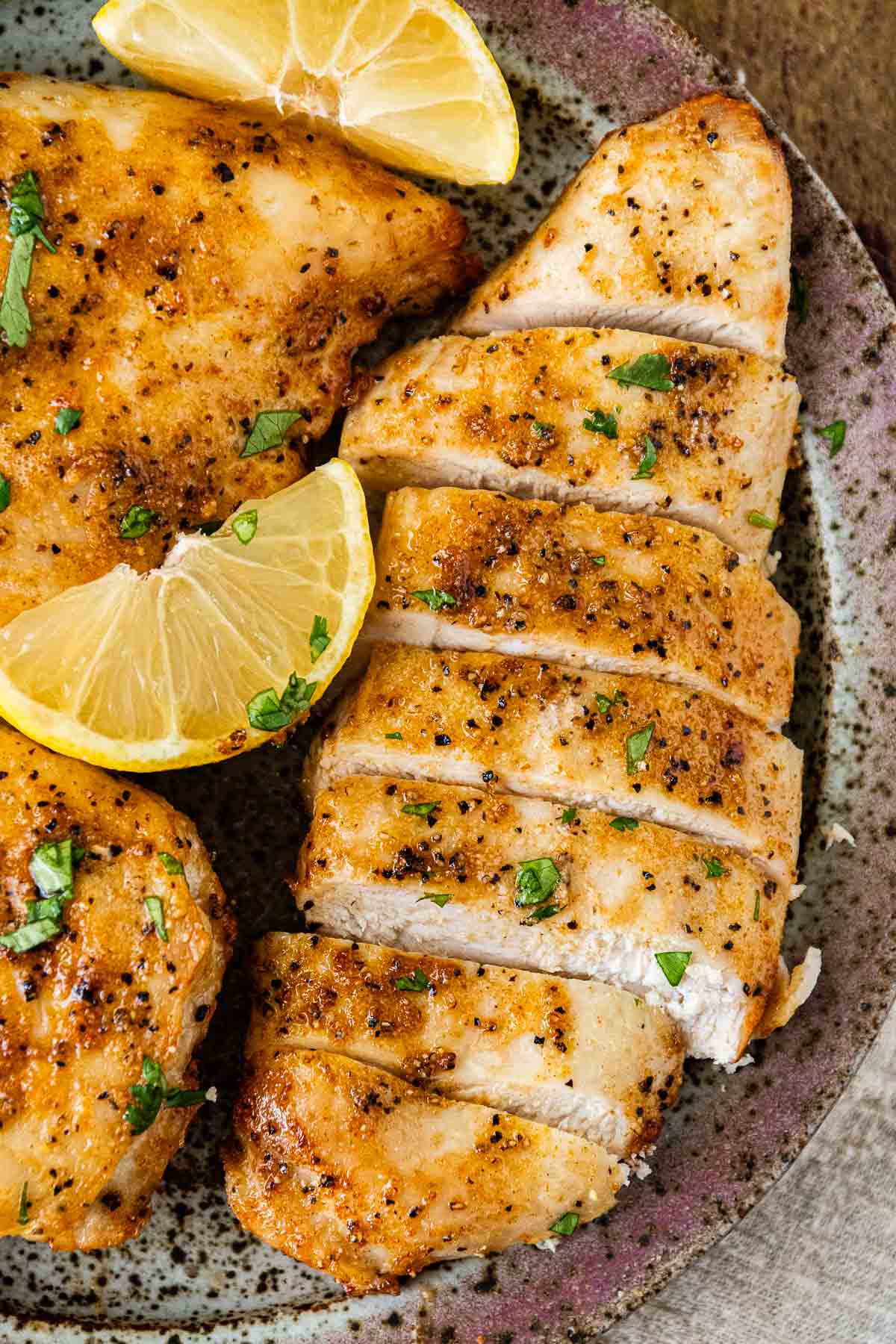 This easy chicken breast recipe is the perfect way to get a relatively healthy meal with a quick cook time. The air fryer cooking method makes the chicken just as scrumptious as if you actually fried it, plus it's way easier.
This recipe makes serving your family a home-cooked meal unbelievably simple! Just prep each piece of chicken in simple seasoning, spray them in vegetable oil, and air fry for 15 minutes. You can make the whole chicken breast recipe in under 20 minutes. Then you can enjoy tender, crispy, delicious chicken breast with hardly any work.
A dish this easy and tasty deserves side dishes that are just as delicious and easy to make. For some tasty vegetable dishes try Roasted Broccoli or Roasted Green Beans. Both recipes have a quick prep time, then you just pop them in the oven to cook on a baking dish. You could also enjoy the chicken with classic sides like Mashed Potatoes, Cornbread, or Potato Salad.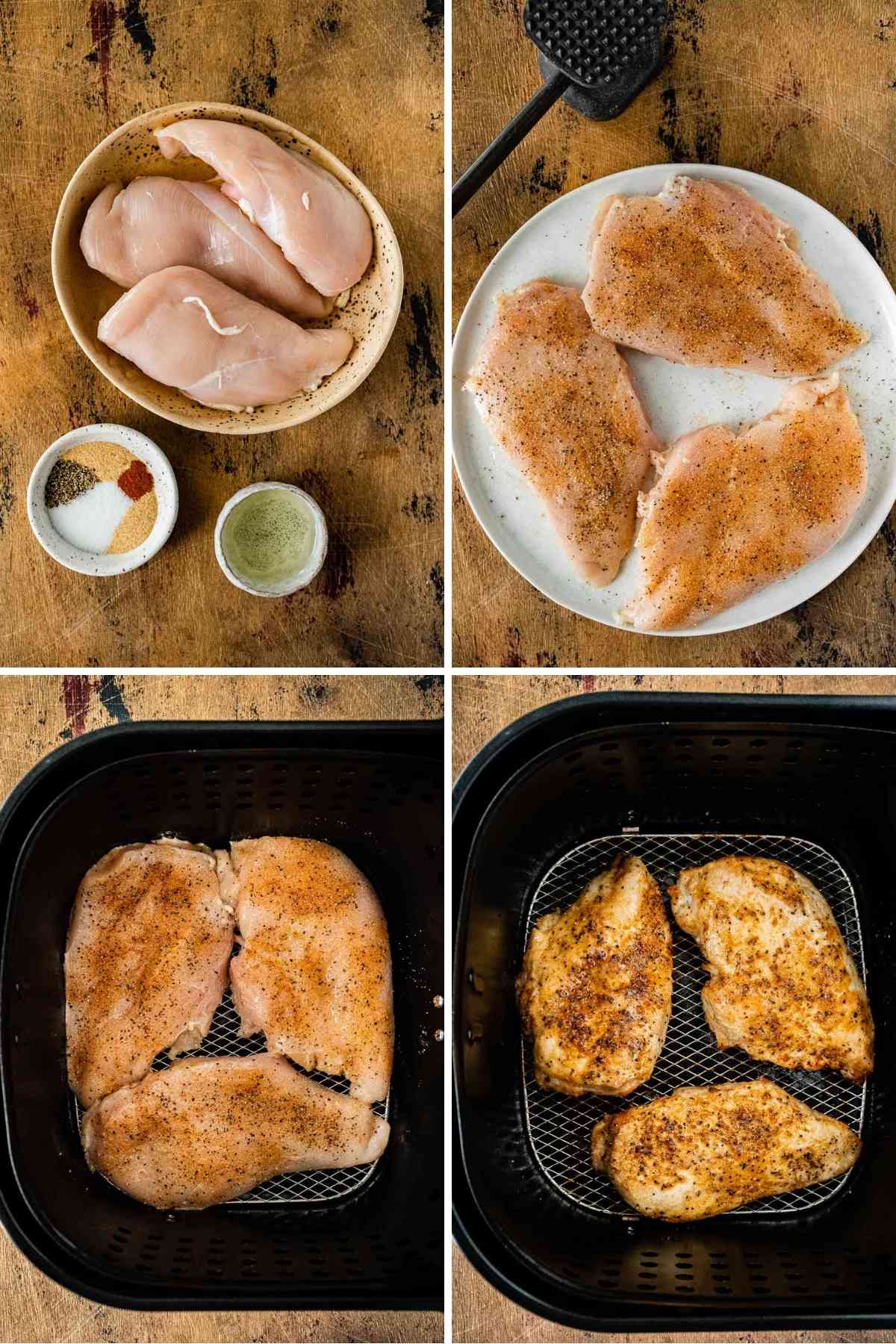 Frequently Asked Questions
Do I need oil for Air Fryer Chicken Breast?
The recipe calls for 1 tablespoon of vegetable oil. However, it's just a small amount used to help the seasoning stick to the chicken breast and make the outer layer crisp up. The actual frying doesn't require any oil.
Is Air Fryer Chicken Breast good for you?
Chicken is always a good meat to have in your diet because it's high in protein, but low in calories. Air Fryer Chicken Breast is also a great way to get crisp and juicy chicken breast without deep frying. The small amount of oil coating the chicken is much healthier than frying the meat in oil.
Why is the chicken pounded before cooking?
Pounding your chicken breast with a meat mallet not only creates a piece of chicken with an even thickness, resulting in even cooking, it also helps tenderize your meat. The pounding breaks down some of the proteins for melt-in-your-mouth, tender, juicy chicken.
More Chicken Dishes
Key Ingredients for Air Fryer Chicken Breast
Boneless Chicken Breast: Use boneless, skinless chicken breast for this recipe. Air fryer boneless chicken turns out nice and juicy with a crispy outer layer. Plus, breast meat is super quick to cook.
Vegetable Oil: Along with the vegetable oil coating, you also spray the air fryer chicken breast meat with vegetable oil spray. While the chicken air fries, the spray makes the outer layer crisp up without any need for deep frying.
Seasoning: This basic Air Fryer Chicken has tons of flavor, but you only need very basic spices. Combine kosher salt, black pepper, onion powder, and garlic powder in a mixing bowl. Then toss the chicken in the classic seasoning before air frying.
How to Make Air Fryer Chicken Breast
Prep Time: Preheat the air fryer to 375 degrees, and spray the fryer basket with nonstick cooking spray. Then use a meat mallet to pound the boneless, skinless chicken breasts so that they're all an even thinness.
Season: Season the raw chicken with vegetable oil first, then salt, black pepper, onion powder, garlic powder, and paprika.
Cook Time: Add the chicken pieces to your air fryer basket in a single layer. Depending on the size of your air fryer, you may need to have the chicken cook in batches. Once the chicken is arranged, spray it lightly with vegetable oil. Then close the air fryer and cook chicken breast for 10 minutes. Use tongs to flip chicken, spray again, and set the air fryer timer for another 5 minutes of cooking time.
Finish: To double-check that the air fryer recipe is done, use a meat thermometer to check that the internal temperature is at least 165 degrees F. If it's not done, add a few minutes of additional cooking time. Once you're done air frying chicken, remove it from the fryer with tongs and enjoy.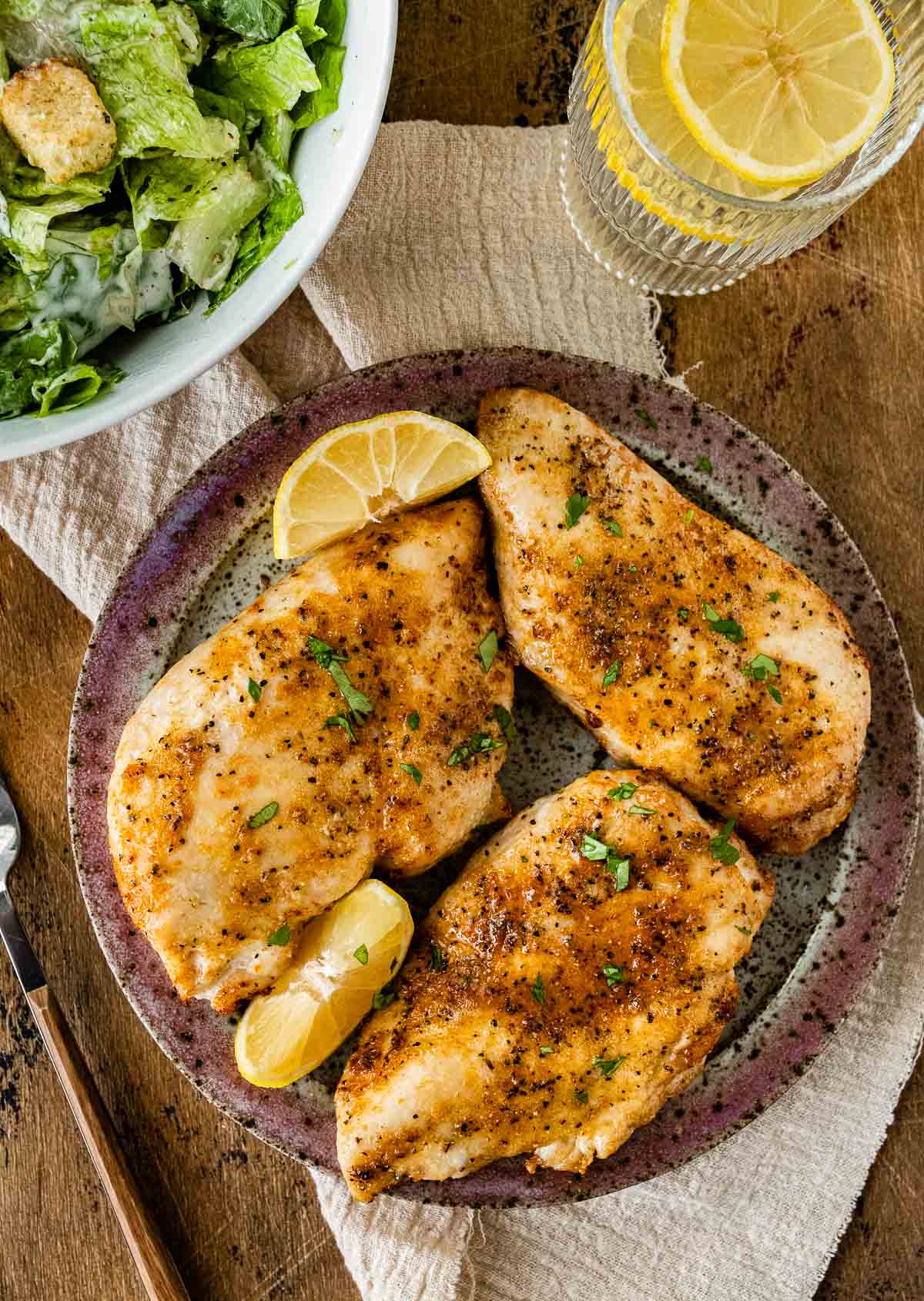 Create a free account to Save Recipes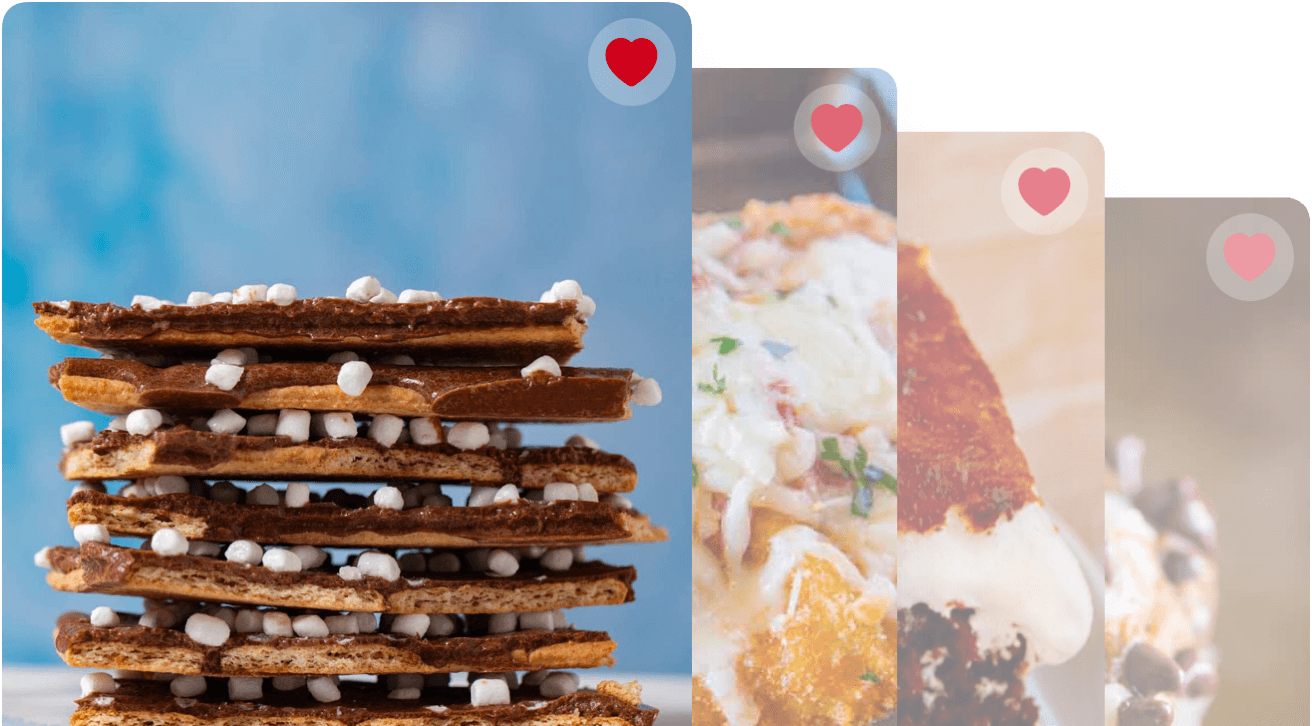 Variations on Air Fryer Chicken Breast
Spice Mixture: You can add lots of additional flavor to the seasoned chicken breasts depending on what chicken seasoning you use. Try an Italian seasoning spice mixture, or add fresh herbs like rosemary or dill. You could also incorporate some extra spice with chili flakes, or chili powder. Just be careful to only add a little at a time so that the chicken doesn't become too spicy. You can always add more after it's cooked. 
Air Fryer Chicken Thighs: You could also make this recipe with chicken thighs. However, chicken thighs take longer to cook than chicken breasts. So, preheat your air fryer to 380 degrees. You can still pound your chicken thighs, just go a little more gentle with them. They won't need pounding as much because chicken thighs don't dry out as fast if one part of the thigh finishes cooking before the rest. Cook for 12 minutes, flip the thighs and cook for another 10 minutes.
Replacement for Breaded Chicken: Use Air Fryer Chicken as a healthy replacement for breaded chicken in any recipe. These breasts would work well in just about any salad. Simply adjust your seasonings as you see fit. Try these Air Fryer Chicken breasts in recipes like Chicken Parmesan, Chicken Francese, or tossed in Buffalo Chicken Sauce.
Favorite Side Dishes
How to Store Air Fryer Chicken Breast
Serve: Don't leave your Air Fryer Chicken Breast Recipe at room temperature for more than 2 hours.
Store: After you've let the meat cool, you can cover it in aluminum foil or transfer it to an airtight container to store in the fridge for 3-5 days.
Freeze: If you want to use this recipe for meal prepping you can also store it in the freezer for up to 3 months. Then let the meat thaw in the fridge before reheating them for easy meal prep.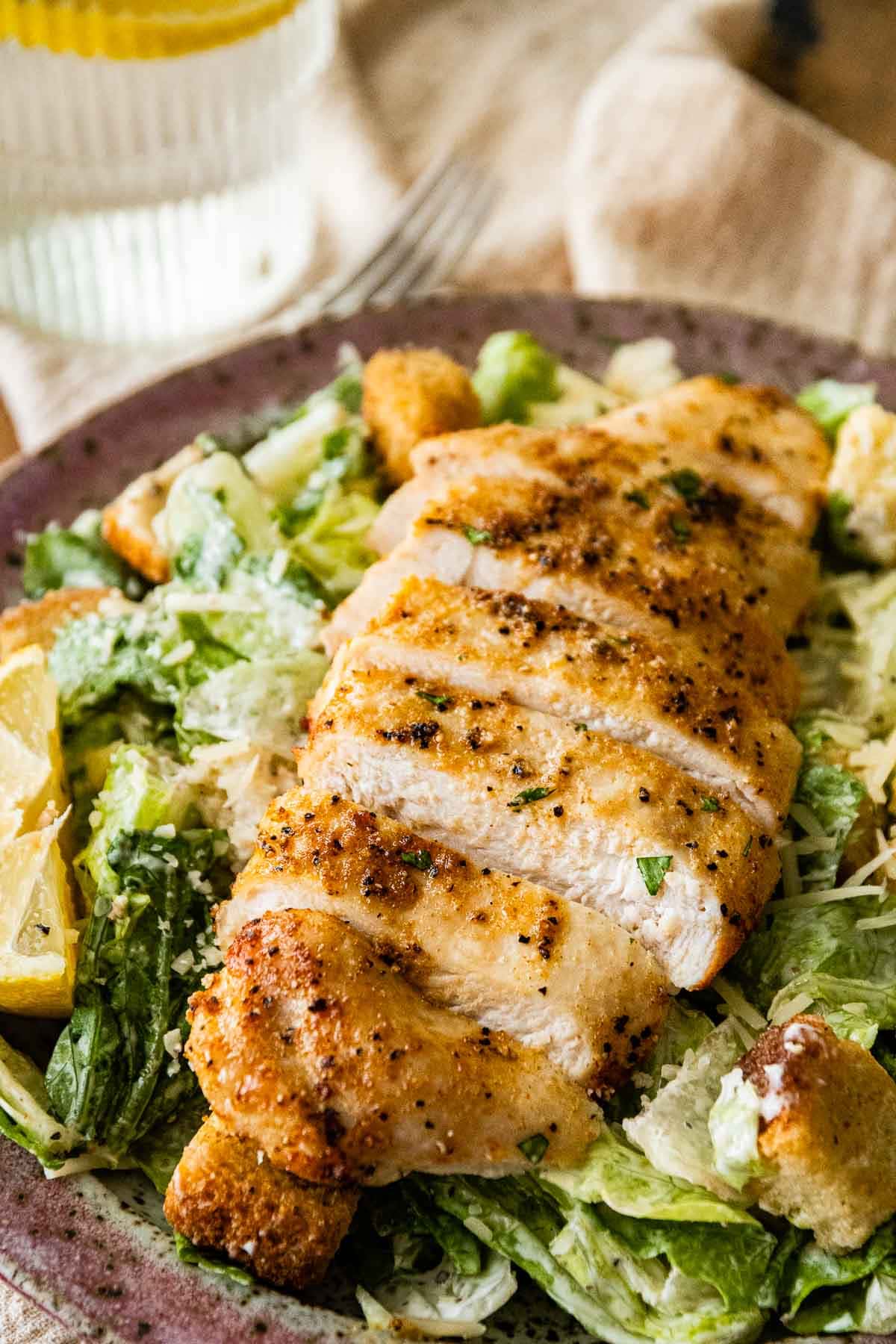 Ingredients
3

chicken breasts

, boneless and skinless

1

tablespoon

vegetable oil

1/2

teaspoon

kosher salt

1/4

teaspoon

coarse ground black pepper

1/4

teaspoon

onion powder

1/4

teaspoon

garlic powder

1/4

teaspoon

paprika
Instructions
Preheat air fryer to 375 degrees and spray basket with vegetable oil spray.

Pound the chicken to an even thickness.

Season with vegetable oil, salt, black pepper, onion powder, garlic powder and paprika.

Add chicken pieces to the air fryer basket in a single layer.

Spray with vegetable oil spray lightly.

Cook for

10 minutes

, flip and spray lightly with vegetable oil again.
Nutrition
Calories:
300
kcal
|
Carbohydrates:
1
g
|
Protein:
48
g
|
Fat:
10
g
|
Saturated Fat:
2
g
|
Polyunsaturated Fat:
4
g
|
Monounsaturated Fat:
3
g
|
Trans Fat:
1
g
|
Cholesterol:
145
mg
|
Sodium:
650
mg
|
Potassium:
847
mg
|
Fiber:
1
g
|
Sugar:
1
g
|
Vitamin A:
151
IU
|
Vitamin C:
3
mg
|
Calcium:
14
mg
|
Iron:
1
mg