Shamrock Shake is the homemade version of the St. Patrick's Day treat made with vanilla ice cream, mint extract, whipped cream, and a cherry!
If you're looking for the pot of gold at the end of the rainbow, try our Rainbow Recipes for St. Patrick's Day! You'll love these Rainbow Waffles, Rainbow Cupcakes and then you can make some Rainbow Roasted Vegetables for a healthy lunch side!

Shamrock Shakes are the dessert of choice for February and March. Because they're only available for a limited amount of time, we can't wait for the time of year when it rolls around. It signifies the start of all things St. Patricks Day! Now you can this fast food classic at home and at any time of the year! This copycat recipe gets all the fun shake flavors with only a handful of ingredients. Plus, you get to skip the long list of ingredients you can't pronounce, the drive-thru, and the extra fast food you won't be ordering!
As the early spring season is just upon us, the world will soon be filled with the fresh and vibrant colors of the newly budding flowers. Green leaves, buds, and grass start to pop through which help inspire the green from our yummy drink. They say the Irish really know how to party, and this minty fresh Shamrock Shake proves it!
This copycat McDonald's Shamrock Shake is all about keeping the classic flavors in check. It uses classic vanilla ice cream (not vanilla bean or French) and mint instead of peppermint flavoring in the shake. This dish is so easy to make at home. And with homemade Vanilla Ice Cream and homemade Whipped Cream, you're already halfway there with this recipe!
How to Make the Shamrock Shake
Making your homemade Shamrock Shake is so unbelievably easy that you'll be wondering why you haven't made it before! It's literally just combining all the ingredients together and mixing them thoroughly. Check it out!
Step One: Portion out all the ingredients into the blender.
Step Two: Blend until ready.
Step Three: Serve in a tall glass, top with whipped cream, sanding sugar, and a cherry, then enjoy!
Frequently Asked Questions
What does a Shamrock Shake taste like?
This copycat version of the original shake is spot on. Shamrock Shakes taste like a creamy vanilla shake with a wonderful minty profile. Sometimes chocolate is added to it which gives it even more flavor! 
Can I use Peppermint instead? (Mint vs. Peppermint)
Many of the recipes on the internet for copycat Shamrock Shakes are using peppermint extract. While that would make a delicious shake, it is not the mint-flavored profile of the original, so if you can source mint extract from online, you'll have a much more authentic minty McDonald's Shamrock Shake experience.

If you do use peppermint extract just expect that this shake will taste something more like a candy cane shake than an authentic minty vanilla shake which is authentic to the McDonald's experience we are making a homemade version of.
How can I make my shake creamier? 
Everyone loves the creamy goodness of a shake. Substitute the milk with heavy cream or half and half to make it extra creamy! 

Create a free account to Save Recipes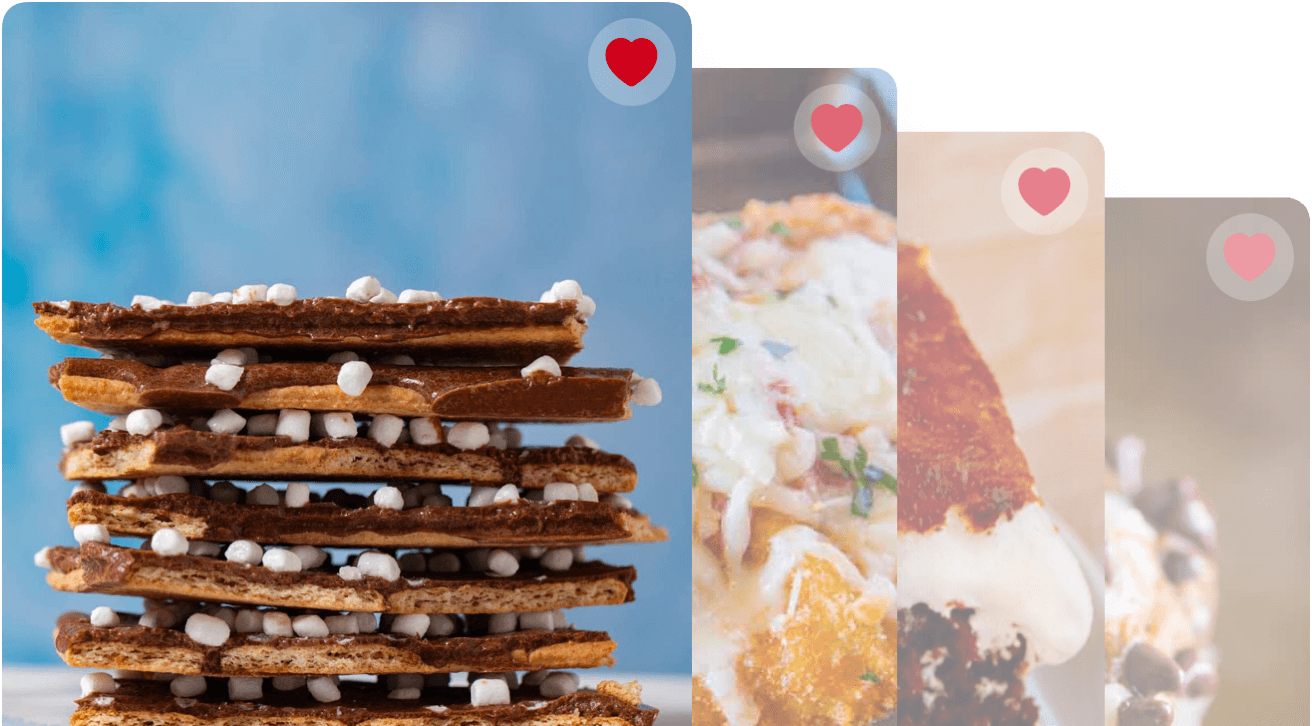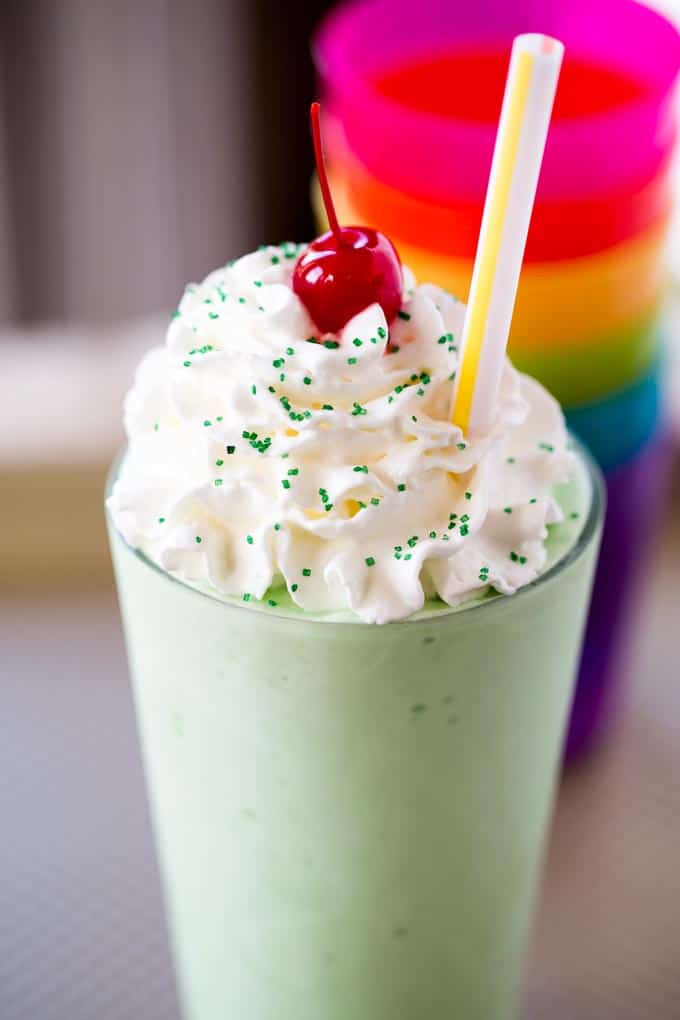 Key Ingredients in the Shamrock Shake
Everything listed here can be easily found at the store. A lot of stuff can actually be made at home. It's your choice.
Mint: We are using mint extract, not peppermint extract which is stronger and has a bit different minty flavor profile.
Ice Cream: We made our own Vanilla Ice Cream just for this recipe. Avoid the custardy French vanilla ice cream or the vanilla bean which has little bean specks in it. They are good, but will alter the specific flavor profile needed for this copycat recipe.
Whipped Cream: Since this is all from scratch, we made our own Whipped Cream at home too! You can use the regular kind from the store without compromising flavor.
Milk: Whole milk is the best for this recipe as it is helps give a thicker consistency with a fuller milk flavor.
Food Coloring: The color is easy to add, start in very small doses. You can use any green food coloring. We're using the green gel in this recipe.You can also use liquid food coloring drops (and it may be easier to add one drop at a time as needed), we just always have gel on hand. Keep in mind that the natural kinds usually don't give off the deep green color of the classic shake.
Maraschino Cherries: Make sure you dry your maraschino cherries well before adding them to the shake or it will run into the whipped cream.
Green Decorating Sugar: Sprinkles are perfect topper for an authentic homemade Shamrock Shake!
Substitutions for Shamrock Shake
You can substitute just about everything in the shake. But keep in mind that the flavor may not match the restaurant version you remember. But don't let that stop you from making the minty vanilla shake your way!
Natural Food Coloring: If you'd prefer to use a natural green color, they have them available online. Keep in mind that they usually don't lend the super green color that the artificial kinds can give. You can also add matcha powder or spirulina powder a bit at a time to the blender until you get a nice green color. The flavor profile might change a bit, but it won't be off putting, especially if you're used to using those kinds of powders.
Dairy Free: If you want to make the shake dairy free you can make it with a coconut milk ice cream and coconut whipped cream.
Cool Whip: If you prefer cool whip to whipped cream you can try making our Homemade Cool Whip too. The consistency is thicker than whipped cream and the homemade version is healthier than the store bought.
Less Calories: If you'd like to make this low-fat and lower the calorie count you can use a low calorie ice cream and less whipped cream or skip the whipped cream altogether.
Chocolate: If you miss the other delicious limited edition Chocolate Shamrock flavors that have been released over the years, then you can make them all yourself with the instructions in All The Shamrock Shakes. By adding chocolate pieces and chocolate syrup to your shake you can get a whole new world of flavor!
More Easy McDonald's Inspired Recipes
How to Store Shamrock Shake
Serve: Shakes should be served immediately after they have been blended. Since they are made with ice cream, they will melt pretty quickly. You can hold the mix in the freezer for about 15 minutes before serving without it getting too frozen.
Store: Shakes are supposed to be stored as they are designed to be eaten immediately. If you store it, keep it in the freezer. Then you can reblend the mixture with some more milk to reconstitute it to the sippable shake!
Freeze: The shake will freeze like ice cream and will stay good for up to 6 months. You can try eating it like ice cream or add it to the blender with some milk to turn it back into a shake!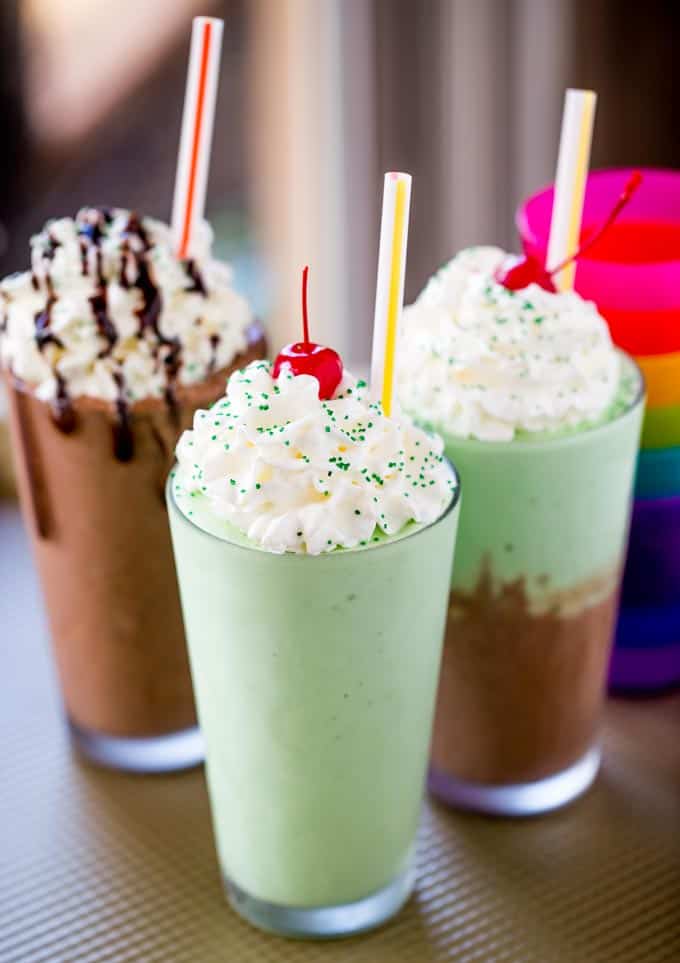 Ingredients
3

cups

vanilla ice cream

1

cup

whole milk

1/4

teaspoon

mint extract

(not peppermint)

9

drops

food coloring

green sanding sugar
Instructions
Mix the ice cream, milk, extract and food coloring on high in your blender.

Top with whipped cream, sanding sugar and a cherry.
Nutrition
Calories:
323
kcal
|
Carbohydrates:
35
g
|
Protein:
7
g
|
Fat:
17
g
|
Saturated Fat:
10
g
|
Cholesterol:
66
mg
|
Sodium:
140
mg
|
Potassium:
370
mg
|
Sugar:
32
g
|
Vitamin A:
690
IU
|
Vitamin C:
0.8
mg
|
Calcium:
261
mg
|
Iron:
0.1
mg