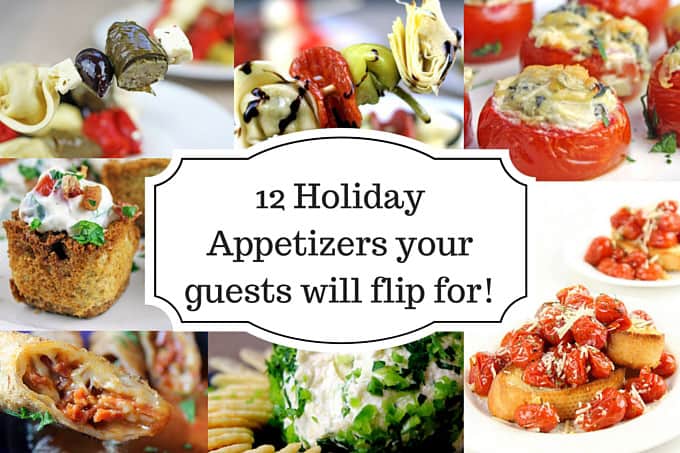 12 Holiday Appetizers for your wonderful holiday parties. Merry Christmas everyone! Yes, yes I know it is not Christmas, or even Christmas Eve. But we are headed back home for the holidays and I will be back bright and early Monday morning. Until then I just wanted to leave you all with some delicious holiday appetizer recipes you may want to make for your holiday parties!
Here are 12 holiday appetizers you'll love to have at your party!
Tomatoes Rockefeller: My favorite party appetizer, hands down!
Oven Roasted Garlic Tomatoes on Crostini: Can you tell I love tomatoes? Also they are easy, fragrant and addicting!
Italian Antipasto Skewers: I love skewers as appetizers, they're easy to eat, fun to serve and they give your guests many flavors on one stick. 
Chorizo Tapas Skewers: Easy as can be, spicy and rich, these skewers are my favorite!  I also included three ways to roast red bell peppers with this recipe.
Greek Antipasto Skewers: People LOVE Greek food and these skewers are always one of the first things to go from the holiday table! 
Holiday Candy Skewers: I made them for Halloween but we make them for most of our holiday parties! Update them with Christmas candies for a festive dessert table treat! 
Pepperoni Pizza Rolls: Your guests will be over the moon with these molten pepperoni pizza egg rolls! Serve with marinara sauce. 
Cheesesteak Rolls: These rolls, along side the pizza ones are an awesome treat for your guests and are easy to serve. 
Pulled Pork Honey Mustard Pretzel Rolls: These are easy, made in the slow cooker and can be made for a huge crowd. The homemade Raspberry Honey Mustard sauce is one of my favorite sauces EVER. 
BLT Dip Bites: These taste exactly like a BLT but in dip form. Cherry tomatoes, bacon and parsley as the stand in lettuce all mixed with creamy cream cheese and sour cream. Kind of impossible to go wrong with this recipe. 
Jalapeno Popper Cheese Ball: You knew there had to be at least one cheese ball recipe right? This one has a hint of spice, a bite of garlic and is amazing spread on crackers! 
Pepperoni Pizza Dip: Last but not least who doesn't love a dip that tastes like America's favorite dinner? This is easy to make, and can serve a large crowd with breadsticks or even sliced french bread for dipping! 
Merry Christmas everyone! I hope you all have a wonderful, love filled rest of your week!